Guatemalan mayor lynched by crowd over attack on rival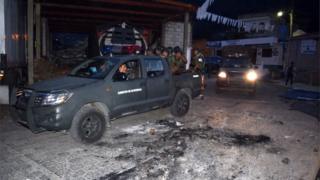 The mayor of a town in western Guatemala has been lynched by a group of locals who accused him of ordering an attack on his political rival.
Mayor Bacilio Juracan died after being beaten and set alight in Concepcion, Solola province, on Sunday.
The residents believed he was behind an earlier attack in which two women were killed and five other people injured.
Guatemala is one of the most violent countries in Latin America and gun crime is rampant.
However, the lynching of an elected official is unusual.
Ambush
Last month, Mr Juracan defeated Lorenzo Sequec in the mayoral race in Concepcion, 100km (62 miles) west of Guatemala City,
After losing the election, Mr Sequec accused Mr Juracan of mismanagement and demanded an investigation into the town's finances.
On Sunday morning, Mr Sequec and members of his family were travelling along a local road when they were cut off by another car.
Unidentified gunmen stepped out of the car and opened fire on Mr Sequec's car.
His 17-year-old daughter and 16-year-old niece were killed and Mr Sequec and four others were injured.
After news of the ambush spread, a group of angry residents searched for Mr Juracan, whom they suspected of ordering the attack.
After setting alight a number of homes belonging to relatives of Mr Juracan, they tracked down the mayor at his house.
They dragged him out, beat him and set him alight.
Police arrived too late to save Mr Juracan.