Cuban artist jailed for mocking Castros is released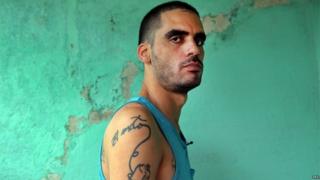 Cuban graffiti artist Danilo Maldonado has been released from jail after spending 10 months in prison for mocking Raul and Fidel Castro.
Mr Maldonado - who's known as El Sexto - attempted to release two pigs painted with the names of the country's current president and former leader.
He was arrested by state security officers before he could set them free in a public square in Havana.
Mr Maldonado was never formally charged or tried.
Human rights organisations have welcomed his release.
Amnesty International called on the Cuban government to put an end to such arbitrary detentions. It had previously deemed Mr Maldonado a prisoner of conscience.
President Obama also reportedly discussed Mr Maldonado's detention with President Castro when they met earlier this year.
The authorities in Havana view dissidents like El Sexto as mercenaries in the pay of anti-Castro groups in Washington and Miami.
But his supporters say he is simply a performance artist trying to make a statement.
The BBC correspondent in Havana, Will Grant, says his case was a sign of how the Cuban government still has little or no tolerance for dissent or open political opposition, despite the diplomatic and economic changes taking place.