Venezuela arrests three over opposition leader's killing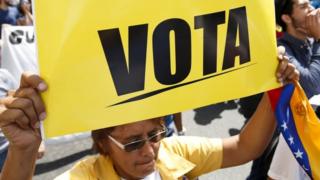 Venezuela has arrested three people suspected of the murder of a regional opposition leader at a campaign rally last week ahead of parliamentary elections next Sunday.
Opposition leaders blamed the shooting of Luis Manuel Diaz on the ruling Socialist Party.
The party has denied the allegation.
President Nicolas Maduro has said the opposition is trying to discredit his government.
Luis Manuel Diaz was killed by a man who approached the stage after a rally in the town of Altagracia de Orituco. central Guarico state.
Lilian Tintori, the wife of jailed opposition leader Leopoldo Lopez, addressed opposition supporters alongside Mr Diaz shortly before the shooting.
But officials say Mr Diaz was a well-known criminal caught in a gang dispute.
Opposition politicians say their candidates have been attacked on numerous occasions in the past weeks.
Miguel Pizarro, an opposition politician running for re-election in Caracas, said he was confronted by armed men who shot into the air in the neighbourhood of Petare on Sunday.
Miranda state governor Henrique Capriles said he was attacked by a group of masked men in the town of Yare earlier this month.
Correspondents say the killing of Mr Diaz has increased concerns about volatility in the run-up to the election for a new National Assembly.