Venezuelan first lady's nephews deny US drug trafficking charges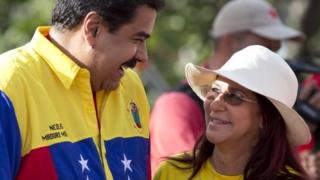 Two nephews of Venezuela's first lady have pleaded not guilty to drug trafficking charges at a court in New York.
Efrain Campo Flores and Francisco Flores de Freitas were arrested by undercover American agents in Haiti in November and taken to the US.
They denied charges of conspiring to smuggle "five (11lb) or more kilograms" of cocaine into the United States.
They are nephews of President Nicolas Maduro's wife, Cilia Flores.
Ms Flores served as speaker of the National Assembly between 2006 and 2011.
Quoting a US law enforcement source, Reuters news agency reported that the amount of cocaine involved was closer to 800kg.
Judge Paul Crotty has scheduled the next hearing for 29 February.
'Kidnapped by US agents'
The head of Venezuela's National Assembly said in November that Mr Campo Flores and Mr Flores de Freitas had been "kidnapped" by US Drug Enforcement Agents.
Relations between the two countries have been tense for many years.
The US has criticised the Venezuelan government for the way it has dealt with opposition protests last year.
It has banned senior Venezuelan officials from travelling to the US over alleged corruption and human rights violations.
Earlier this month, Mr Maduro's party (PSUV) suffered a major political blow in elections for the National Assembly.
Opposition parties won a key two-thirds majority in the assembly, paving the way for radical changes to the socialist policies of the past 16 years.
The election result is the worst for the Socialist movement founded by late leader Hugo Chavez in 1999.