Venezuela congress swears in barred opposition MPs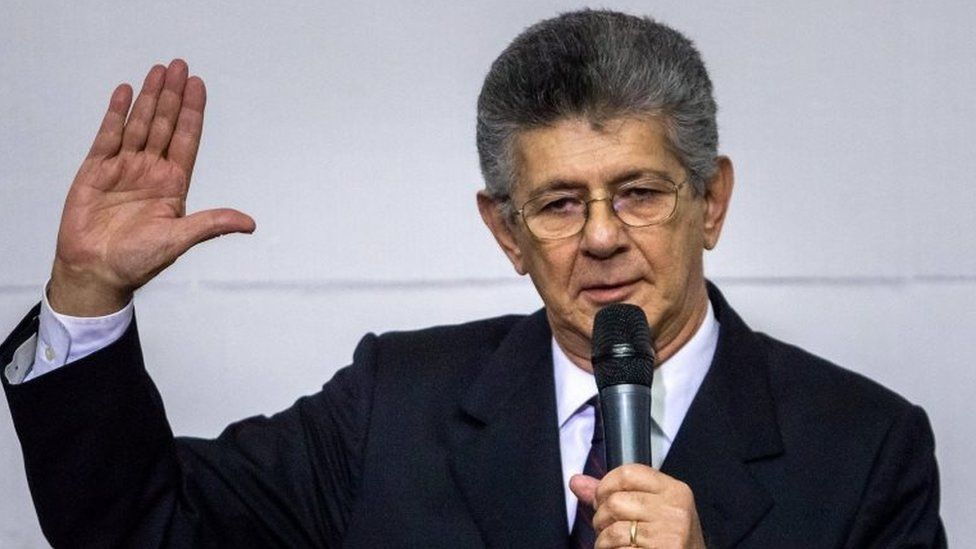 Venezuela's opposition has sworn in three of its MPs suspended for alleged election fraud, in its first full session in control of congress.
The move defies a supreme court ruling and gives the opposition a two-thirds super-majority.
The supermajority gives the opposition extra powers such as removing judges from the top court.
The new speaker, Henry Ramos Allup, has also said that he would seek a government change within six months.
Mr Ramos Allup of the opposition MUD coalition was speaking at the swearing-in ceremony of the new lawmakers on Tuesday.
Following a landslide win, the assembly is under the control of the opposition for the first time in almost 17 years.
He did not say how the change would be brought about but stressed it would be "constitutional".
Under Venezuela's constitution, the president can be removed from office by means of a recall referendum.
More radical members of the MUD opposition coalition have in the past few months called for such a referendum.
In a letter sent in November from the cell where he is being held after being found guilty of incitement of violence, opposition leader Leopoldo Lopez wrote: "We can't wait for the presidential elections in 2019, political change in Venezuela has a date and it's the first semester of 2016."
Recall referendum: How would it work?
A recall referendum can only be called once the president has served half of his term
The signatures of at least 20% of registered voters are needed to trigger it
President Nicolas Maduro started his six-year term on 19 April 2013
The opposition could start gathering signatures any time after 19 April 2016
If the recall referendum proves successful, new presidential elections will have to be held within 30 days
A new president would then serve out the remainder of Mr Maduro's term in office until April 2019
Mr Ramos Allup did not say whether he was referring to a recall referendum in his speech, but made it clear that "here and now, things will change".
In response, Mr Maduro struck a defiant note in an interview on state television.
"Let them [the opposition] call a recall referendum and then the people will decide," he said.
"But if they come [at me] by any other means, the people, constitution in hand, will decide, and I'll be there defending democracy in my role as president of the Republic," he added.
It is still unclear if the investiture of the three banned opposition MPs will be allowed to stand.
It goes against a supreme court ruling that they and one pro-government MP should be temporarily suspended while allegations of election irregularities during last month's elections were investigated.
In the 6 December election, the opposition MUD coalition won 112 seats and the governing Socialist coalition 55.
The Supreme Court then suspended four lawmakers, three of them from the opposition, pending an investigation into electoral irregularities.
Constitutional experts had disagreed on whether the opposition would lose its two-thirds majority if any of their lawmakers remained suspended.
Some had argued they need all 112 out of the 167 seats, while others say that in case of their continued suspension, the two-thirds majority should be lowered to 109 to reflect the smaller total number of delegates of 163.
The two-thirds majority is key because it gives the opposition extra powers such removing judges from the Supreme Court and creating a constituent assembly with a view to rewriting the constitution.