Haiti candidate Celestin: Presidential polls 'a farce'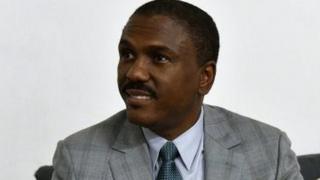 The opposition candidate in Haiti's presidential election has called the polls "a farce" and threatened to pull out of the second round on Sunday.
Jude Celestin said he would not participate in the run-off unless electoral reforms were carried out.
An independent electoral commission said that the first round in October was marred by fraud and irregularities.
The first round was won by Jovenel Moise, who enjoys the backing of outgoing President Michel Martelly.
Public anger
About 2,000 opposition supporters protested in the capital, Port-au-Prince, on Monday.
They burned tyres and set at least two cars alight.
In towns in northern Haiti, protesters also attacked electoral offices and demanded the run-off vote be suspended.
Earlier this month, a commission investigating the first round of the presidential election in Haiti said the vote was "stained by irregularities".
The protesters on the streets of Port-au-Prince accused outgoing President Martelly of fixing the result of the first round and demanded fresh elections.
Mr Martelly is constitutionally barred from seeking re-election but has thrown his weight behind Mr Moise, a banana exporter.
The run-off had originally been scheduled for 27 December but has been postponed twice and is now scheduled for 24 January.
'Great error'
Mr Celestin accusing the electoral authorities of unfairly favouring the government candidate.
He called the vote a farce with "only one candidate" and said he would not participate unless the recommendations made by the investigating commission were implemented.
In a video address to the Haitian people, Mr Celestin said that voting in Sunday's run-off would be "a great error".
Meanwhile, Mr Moise called on Haitians to vote on Sunday and to unite for a better Haiti.
"We need the passion and competence of all of our citizens, regardless of their origin and political affiliation, to develop Haiti," he said.
Mr Martelly's term comes to an end on 7 February.
Whoever takes over from Mr Martelly will face the daunting task of reconstructing the country which was devastated by an earthquake in 2010 and has since relied largely on international donations and foreign aid.