Guerrero state: 'Nine dead' at Mexico teen's birthday party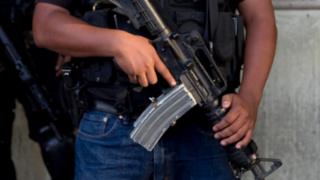 Nine people, including two minors, have been killed in a shooting at a girl's 15th birthday party in Mexico's Guerrero state, officials say.
The incident happened at the traditional coming-of-age party in Cundancito, in the west of the region.
Authorities tried to reach the area but were met by gunfire, the local governor said.
Two years ago, 43 students disappeared in Guerrero, which is one of Mexico's most violent states.
The ages of the two minors killed were not given. The other seven dead were men aged between 18 and 50.
Guerrero governor, Hector Astudillo, initially said that 11 people had been killed, but prosecutors later reviewed this number.
Officials have not said whether any arrests were made in Cundancito.
Details of the incident were not immediately available, but the EFE news agency, citing family accounts, reported that the shooting could have started after a disagreement between two families who were attending the party.
Figures compiled by the La Jornada newspaper found that at least 324 people were murdered in Guerrero between October and December last year, most related to the drug trade.
Many drug cartels operate in Guerrero and violence has intensified in its mountainous region in recent months, local media reported.