Rio's new metro to work at half capacity for Olympics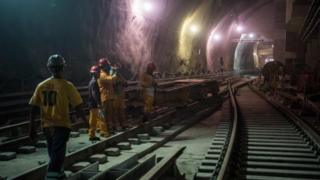 A new metro line in Rio de Janeiro promised for the 2016 Olympics will open just days before the event and will not open to the public until after the Games, officials have said.
The 16km (10-mile) extension to Line 4 will operate at half its capacity during the the 5-21 August event.
Only Olympic officials, ticket-holders and supporting personnel will be able to use it.
The line will be open to the general public after September's Paralympics.
"This is a small adjustment, and you can't call it a delay," Rio de Janeiro State Transport Secretary Rodrigo Goulart said.
The authorities had initially planned to open the line in July.