Colombia army helicopter crashes in Caldas, killing 17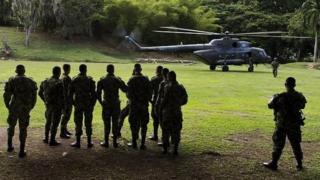 Seventeen members of the Colombian security forces have died in a helicopter crash north-west of Bogota, the army has said.
The wreckage of the army helicopter was found on Monday in Pensilvania in the central province of Caldas, a day after the aircraft had gone missing.
The army said it suspected bad weather may have been to blame for the crash.
Accidents are not uncommon in this area as mountain ranges and unpredictable weather make flying difficult.
Last August, 16 police officers died when a helicopter crashed in low cloud in Antioquia province.
The latest incident involved a helicopter that had been on its way from Quibdo, in the northern Choco province, to an army base in Tolemaida when it disappeared.
The army said its mission was "operational".
'Thorough investigation'
There have been instances in the past when army helicopters have been downed by rebel groups.
But last week, the government and the country's largest rebel group, the Revolutionary Armed Forces of Colombia (Farc), signed a ceasefire agreement.
Analysts say it would seem unlikely the Farc would risk the progress made in the peace process by attacking a helicopter.
President Juan Manuel Santos said there would be a thorough investigation into the crash.
The mayor of Pensilvania, Jesus Ospina, told Colombian radio that locals had seen the helicopter "flying very low" and reported hearing an explosion.