Rio Olympic spirit shines on social media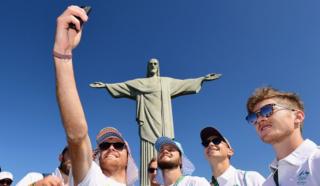 Brazil may be facing concerns about threats from terrorism and the Zika virus days before the opening of the Rio Games, but the Olympic spirit seems to be gaining ground - on social media at least.
Signs of virtual enthusiasm from gold-medal hopefuls and other athletes are shining through, despite some last-minute glitches at the Olympic Village, the latest being a small fire and theft suffered by the Australian delegation over the weekend.
But the mood is getting brighter - especially on the social media feeds of some Olympic stars who have already landed in Rio de Janeiro.
Star athletes
Jamaican sprinter Usain Bolt, the first man to hold the world record for both the 100m and 200m, is the biggest international name to have arrived early.
A buoyant Bolt has been active on Twitter and Instagram, where he entertains millions of followers with pictures of his daily exercises and Jamaican-style meals alongside fellow team members. (@usainbolt)
US swimmer Michael Phelps, who is an eighteen-time Olympic gold medallist, has been warming up fans with some virtual fun, such as a recently launched series of "phelpsmoji" - and a "nice trim" before Rio. (m_phelps00)
National idols
For local Olympic idols, the countdown is proving emotional. One of Brazil's most famous soccer players, Neymar, who currently plays for Barcelona, has been tweeting pictures of his preparations in the city of Goiania.
"God bless us and protect us," he tweeted over the weekend to his 23 million followers. (@neymarjr)
Other medal hopefuls include the women of the Brazilian volleyball team who will fight for their third gold. "Almost there, the emotion is great," wrote captain Fabiana Claudino on a recent post featuring a group photo. (@FabianaClaudino)
Popular hashtags
Top Twitter hashtags, such as #OlympicVillage and #Rio2016, have been offering glimpses of the run-up to the Games.
Users can follow the preparations of the competitors. And there are surprises too, such as the unexpected popularity of a fast-food chain established inside the Olympic Village which offers food for free.
These hashtags also have been widely used to report the arrival of international stars such as tennis player Rafael Nadal, who was met by a legion of journalists at the airport on Sunday night. "One of the kings of tennis has arrived", the Rio 2016 organisers tweeted in Spanish. (@rio2016_es)
Many athletes are posting tweets about their daily activities and videos from the Olympic Village and elsewhere. "Love it," British hockey player Henry Weir wrote on Twitter, offering a quick video tour of his accommodation with some "great" waterfront views. (@HENRYweir_)
Brazilian media
Local media coverage of Rio 2016 kicked off in earnest over the weekend as TV Globo inaugurated its high-tech Olympic Studio.
Esporte Espetacular, Globo's mainstream weekly TV sports show, was broadcast from Barra da Tijuca's Olympic Park for the first time on Sunday. The park area is expected to be visited by more than 100,000 people during the Games.
"A very special day," tweeted Glenda Kozlowski, a former bodyboarding champion who is one of Globo TV's main sports anchors. (@glendakozlowski)
The countdown for the Rio Olympics ends on Friday with the opening ceremony at the Maracana Stadium. For those not able to be there, following the party on social media might be just as exciting.
BBC Monitoring reports and analyses news from TV, radio, web and print media around the world. You can follow BBC Monitoring on Twitter and Facebook.