Rio 2016: Bolt and De Grasse grins spark bromance delight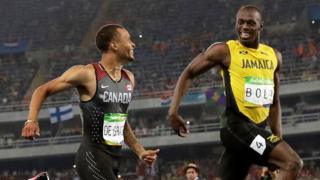 Jamaica's Usain Bolt has again grinned his way across a finishing line - but this time he had someone to smile at, Canadian sprinter Andre De Grasse.
The pair beamed at each other as they came first and second in the 200m semi-final, sparking talk of an epic Olympic bromance in Rio.
After the race the pair embraced, just as they had done after the 100m final, which Bolt won and De Grasse came third in.
Bolt, 29, said De Grasse, 21, had surprised him: "He was supposed to slow down. I said, 'What are you doing, it's a semi-final?' But I think he wanted to push me. I was a bit lazy, but I got round,."
"We were just having fun," said De Grasse. "I just wanted to go out there and push him to his limits a bit."
However, Bolt later posted a photo of the race on his Twitter account with De Grasse cropped out - could the bromance be on hold for Friday's final?
If so, it might not come as a surprise to De Grasse, who has already spoken of his desire to usurp his rival as the world's greatest sprinter and even tweeted the hashtag #nothingpersonal ahead of the 100m final race.