Brazil prosecutor: Senate must impeach Rousseff to start 'new era'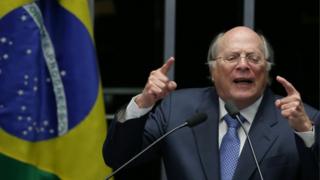 The main prosecutor in the impeachment trial of suspended Brazilian President Dilma Rousseff has said the country has had enough of her government's corruption and mismanagement.
Closing the case for the prosecution, Miguel Reale Junior urged senators to vote to dismiss her on Wednesday.
Her impeachment "will mark the beginning of a new era" for Brazil, said Mr Reale Junior.
Ms Rousseff has been accused of illegally manipulating the budget.
Her lawyer said she was being persecuted for daring to challenge the country's political elite.
In an emotional statement, Jose Eduardo Cardozo said her impeachment would be "the political death penalty" of an honest politician.
"The impeachment process began the minute Dilma won the [2014] presidential election," said Mr Cardozo.
Ms Rousseff refused to stop an investigation into a major corruption scandal at the state oil company, Petrobras, he added.
Many politicians from the governing Workers' Party have been implicated in the scandal.
Members of other parties that were then part of the governing coalition and now back the impeachment are also being investigated.
Mr Reale Junior said the Workers' Party, which came to power with President Luiz Inacio Lula da Silva in 2003, set up a scheme of corruption using money from state companies to finance political campaigns.
"The country doesn't want that anymore," he said. The impeachment process, he said, "is a big demonstration of democracy to the world".
If two-thirds of senators vote against Ms Rousseff she will be permanently removed from office.
Vice-President Michel Temer, who took office when the president was suspended by the Senate in May, will then serve out her term, which ends on 1 January 2019.
If the pro-impeachment camp fails to get 54 out of 81 votes in the Senate she will be reinstated. But even her closest aides say that is highly unlikely to happen.
Ms Rousseff spent more than 18 hours on Tuesday defending her record during a marathon session in the Senate.
She said she was the victim of a political coup d'etat led by those she defeated at the polls in 2014.
"I did not commit the crimes that I am arbitrarily and unjustly accused of," Ms Rousseff said, adding: "We are one step away from a real coup d'etat."