Colombia's ELN rebels 'ready to start peace talks'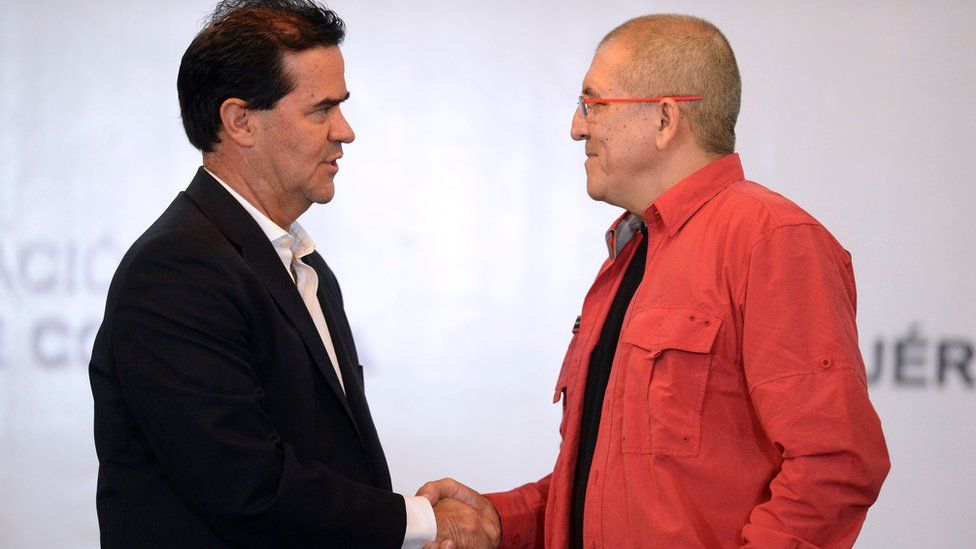 Colombia's second-largest rebel group has said it is ready to begin formal peace talks with the government, days after a historic peace deal was signed with the country's largest rebel group.
Negotiations between National Liberation Army (ELN) rebels and the government have been delayed over the ELN's continuous kidnappings.
An earlier deal signed with Farc rebels has ended more than 50 years of war.
On Tuesday, the government called on the ELN to free its remaining hostages.
At least four people are still being held by the Marxist group, the government said.
In its announcement, the ELN said it wanted to "find solutions to difficulties".
The government and ELN agreed in March to hold formal negotiations in Ecuador in May but the rebels failed to meet the government's demand that it stop kidnapping people.
The guerrilla group was founded in 1964 to fight Colombia's unequal distribution of land and riches, inspired by the Cuban revolution of 1959.
Over the decades, the group has attacked large landholders and multinational companies, and repeatedly blown up oil pipelines.
To finance itself it has resorted to extortion, kidnappings and drug trafficking.
It has been strongest in rural areas.