US extradites Mexican-Chinese businessman Zhenli Ye Gon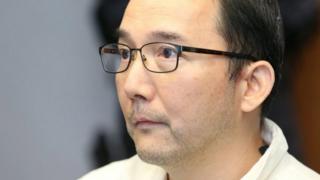 Chinese-born Mexican businessman Zhenli Ye Gon, accused of producing and trafficking illegal drugs, has arrived at a high security jail in Mexico.
He lost a nine-year battle against extradition from the United States.
Zhenli Ye Gon fled to the US in 2007 and was arrested there, after police in Mexico seized $205m (£167m) in cash from his villa.
Police suspected that he was importing vast quantities of chemicals to produce the synthetic drug methamphetamine.
He faces charges of conspiracy, drug-related crimes, possession of illegal weapons and conducting operations with illegal proceeds, said deputy Attorney-General Salvador Sandoval Silva.
Mr Ye Gon denies the charges. He said previously that his company, Unimed Pharm Chem Mexico, was producing legal prescription medications.
Mr Ye Gon was escorted by US Marshals on a flight from Virginia to Mexico City and handed over to Mexican officials.
They took him to the high-security Altiplano prison near the capital, Mexico City.
The Altiplano federal penitentiary gained notoriety in July 2015, when its most famous inmate, Joaquin "El Chapo" Guzman, escaped through a tunnel linking his cell to a nearby house.
Guzman, who was Mexico's top drug lord, was rearrested in February, sent back to the Altiplano but transferred a few months later to a jail near the border with the United States.