Uruguay ex-President Jorge Batlle dies aged 88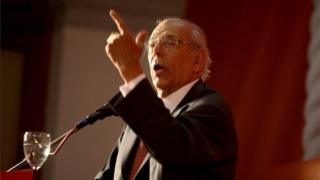 The former president of Uruguay, Jorge Batlle, has died from a head injury he sustained earlier this month.
Mr Batlle, who led Uruguay from 2000 to 2005, was 88.
His term coincided with a deep economic depression that brought Uruguay close to bankruptcy.
Mr Batlle, whose father also served as president, was a key political figure in Uruguay for decades but was banned from office while the country was under military rule from 1973 to 1985.
Fourth time lucky
He never fully recovered from bleeding to the brain he sustained after he fainted and fell at an event for his Colorado Party earlier this month.
Mr Batlle first ran for the presidency in 1966 but was unsuccessful.
He lost for a second time in 1971 but continued political activity even under military rule and was arrested several times.
After the return of democracy, Mr Batlle was elected as a senator.
His third stab at gaining the top job in 1994 was also unsuccessful. He was finally elected president in 1999 and served a five-year term from 2000.
A centrist, Mr Batlle maintained good relations with the United States.
Cuban leader Fidel Castro labelled him a US "lackey" after Mr Batlle criticised Cuba over the Communist island's human rights record.
When an economic crisis pushed Uruguay to the brink of bankruptcy, the US helped Montevideo obtain credit worth $1.5bn (£1.2bn).
Mr Batlle was succeeded in office by Tabare Vazquez, of the leftist Frente Amplio coalition.
Uruguay has declared a day of mourning for Tuesday.