Brazil grotto collapse 'kills 10' in Tocantins state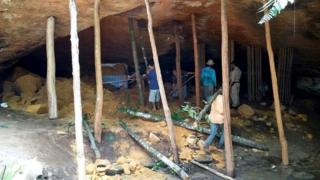 A grotto has collapsed in Brazil, killing at least 10 people celebrating a religious event, police say.
Part of the roof caved in at the Casa da Pedro grotto near the city of Santa Maria in Tocantins state in central Brazil. It was unclear what caused the incident.
About 50 worshippers were in the grotto at the time. At least four other people were injured.
The worshippers were leaving candles and praying to mark All Saints' Day.
Part of the roof collapsed suddenly, burying many of the worshippers and causing panic.
Images on Brazilian media showed part of the collapse.
Fire department Lt Edvaldo Gomes Araujo told Associated Press that all the bodies and the injured had now been removed.
Santa Maria is located about 1,200 miles (2,000km) north-west of Rio de Janeiro.