Venezuela: Maduro rejects early vote as truce crumbles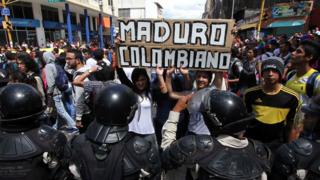 Venezuelan President Nicolas Maduro has rejected calls from the opposition for an early election, amid a fragile and fraying political truce in the country.
In a national address, the president said: "There can be no ultimatums."
Mr Maduro's supporters massed outside the Miraflores presidential palace in Caracas on Thursday night to show their support for the socialist leader.
Meanwhile, about 150 students protested against Mr Maduro in the western city of San Cristobal, clashing with police.
Venezuela is mired in worsening economic crisis, leading to calls for Mr Maduro to step down.
An opposition coalition had said its goal for talks, due to begin on 11 November, was to set an election for early next year, well ahead of the end of Mr Maduro's term.
---
More on this story
---
But the 53-year-old president hit out at the coalition in his address, accusing them of lying.
He said: "There can be no ultimatums. Nobody can issue an ultimatum. Everything in its time.
"I want to alert you all, especially the opposition's supporters: 'They are lying to you again'."
Mr Maduro's comments came at the end of a week that saw progress made in talks, mediated by a Vatican envoy and former international leaders from Spain, the Dominican Republic and Panama, slowly fall apart.
During the talks on Sunday, the first time government and opposition officials have met this year, they agreed to tone down their rhetoric, and planned opposition protest marches were cancelled.
The two sides also agreed to create four working groups and to reconvene on 11 November, but Mr Maduro's comments have thrown this meeting into doubt.
The main opposition coalition, the Democratic Unity Roundtable (MUD), is divided over the talks, with 16 of 30 parties refusing to take part.
Leading opposition figure Carlos Ocariz has called for the release of 100 people that Mr Maduro's opponents say were detained for criticising the president.
Last month, hundreds of thousands of people protested in the capital after opposition calls for a referendum on Mr Maduro's leadership were rejected.
Mr Maduro was elected in 2013 to replace his late mentor Hugo Chavez, but has seen his popularity plummet to just over 20% amid an unprecedented economic crisis.