Mexican Senator Ana Gabriela Guevara beaten by men after road crash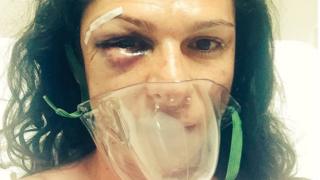 Mexican Senator Ana Gabriela Guevara, 39, is in hospital after being beaten up by four men following a traffic collision near Mexico City.
Ms Guevara was riding her motorcycle on Sunday evening when a car hit her and caused her to fall, she said.
Ms Guevara, a former Olympic medal winner, said the men in the car got out and hit her in the ribs and the head.
She said the attack had been "cowardly and vile" and that the car had rammed her on purpose.
She said the men had insulted her for being a woman and a motorcyclist.
Ms Guevara, an Olympic-medal winning athlete before entering politics, has reported the incident to the police.
She posted a photo of herself on Twitter looking bruised after having surgery on her face with the hashtag #bastadeviolence (#NoMoreViolence).
Violence against women is a major problem in Mexico and across Latin America, where there have been mass protests demanding authorities do more to protect women from aggression.