Mexico student injures four before shooting himself at a school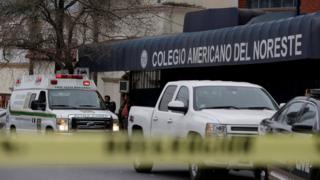 A student at an American school in the north-eastern Mexican city of Monterrey has died after opening fire on classmates before fatally shooting himself, officials say.
The 15-year-old, who injured a teacher and three other students in the attack, was said to have been suffering from depression.
The nationalities of those shot at the Colegio Americano del Noreste were not clear.
School shootings are rare in Mexico.
Reports said the injured were in a serious condition.
Nuevo Leon state Governor Jaime Rodriguez named the teenager as Federico Guevara and said that his motive was being investigated, Reuters news agency reports.
Aldo Fasci, a security spokesman of Nuevo Leon state, called the incident unprecedented. He said the motive was under investigation.
A video showed the gunman shooting the 24-year-old teacher and the students, two aged 14 and one 15, the spokesman said. He then shot himself.
"[This] is result of a situation that is happening everywhere. The children have access to the internet. This has happened in other countries," he said.
Mr Fasci said it was not clear how the student got the gun into the private bilingual school, which includes pre-school, elementary and high school classes.
He added that Mexico once had a system in place to check student bags but it ended after parents complained.
Mexico's President Enrique Pena Nieto posted a message on the social media site Twitter, saying that his thoughts were with the local community and the families affected.
"As a father and as president, what happened this morning at a school in Monterrey hurts me very much," he wrote.