Argentina's Buenos Aires deserted in general strike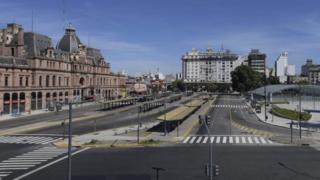 The start of a 24 hour general strike in the Argentine capital, Buenos Aires, has shut down public transport, with demonstrators blocking city streets.
Unions said turnout was high as workers protested against job cuts and the economic policies of the conservative president, Mauricio Macri.
Protestors scuffled with police as President Macri hosted an economic forum for Latin American leaders.
About a third of Argentines are living in poverty.