Footballer Ezequiel Lavezzi apologises over 'racist' photo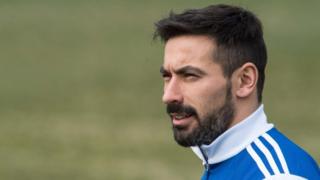 An Argentina international has apologised after he made a slant-eyed pose in promotional pictures for his Chinese football club.
Ezequiel Lavezzi was photographed pulling the corner of his eyes in pictures taken for the Chinese Super League side Hebei China Fortune.
The club has since said they were meant to be "light-hearted" and "wacky".
But instead they have caused huge offence in China, with people accusing him of racism.
"This is an extremely abominable gesture that discriminates against Chinese people. Get him out of here!" one person wrote on social media platform Weibo.
In a statement released on Sunday, Lavezzi said he had "no intention of insulting the Chinese people", and was simply making funny faces at the request of the photographer.
"I'm very happy to be here as part of the Hebei club," he added. "I have had great time here with my team mates and it has been a great journey. Every Chinese person around me is friendly and I love my life here.
"I deeply apologise if this photo has offended the Chinese public and fans. I will be more careful in the future."
The club has also apologised.
Lavezzi, 32, moved to the Chinese side last year from Paris St -Germain. The two-year deal was reported to be worth £23.5m ($30.3m).