Confederations Cup: Chile businessman offers fans 5,000 flags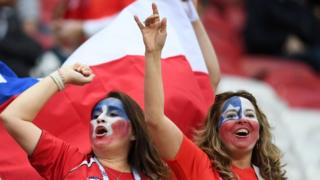 A wealthy Chilean businessman has despatched 5,000 national flags to Russia ahead of the football Confederations Cup final.
Chile will face current world champions, Germany, in Saint Petersburg at 18:00 GMT on Sunday.
The mining tycoon and philanthropist, Leonardo Farkas, urged Chilean fans in Russia to gather outside the team's hotel to collect the flags.
"Let's give our players a boost," he wrote on Facebook.
Some 10,000 Chilean fans have joined the national team in Russia.
"Please, only one flag per person," Mr Farkas warned.
The flags were produced in Chile and taken to Russia via France.
This is not the first time the 50-year-old businessman has flashed his cash to try to give the Chilean football team an extra push.
In 2015, he handed 40,000 flags to fans watching the Copa America final in Santiago.
His strategy seemed to have worked: Chile beat Argentina in a penalty shootout and became South American champions for the first time.