Venezuela row as National Assembly appoints judges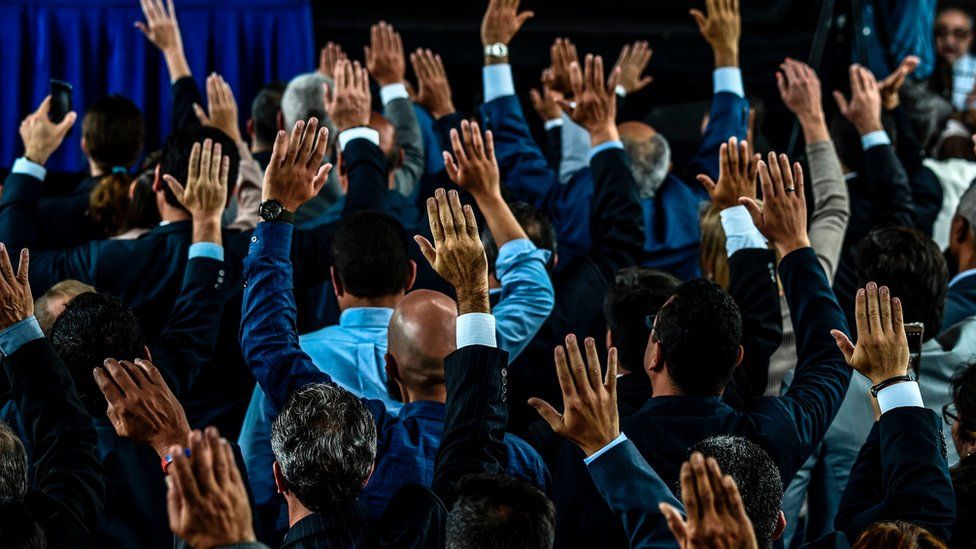 Venezuela's opposition-controlled National Assembly has appointed 33 judges to the Supreme Court, prompting accusations of an attempted power grab.
The assembly says it has the right to name and fire justices under the country's constitution.
But the court, which is largely made up of pro-government members, has described the move as illegal.
The opposition is stepping up pressure on President Nicolas Maduro to call early elections.
Mr Maduro has refused and is instead going ahead with plans to form a constituent assembly which would have the power to rewrite the constitution and bypass the National Assembly.
The impasse has left Venezuela in a political crisis and scores of people have died in months of anti-government protests.
Following the National Assembly's announcement, the government said it would not allow serving judges to be unseated.
The Supreme Court has ordered "civil and military authorities" to carry out "coercive actions" in response to the appointments, but it is unclear what that will entail.
Meanwhile, the opposition Democratic Unity coalition (MUD) has called for protest marches on Saturday from seven points in the capital Caracas to the Supreme Court headquarters.
The opposition says the current justices are illegitimate, having been rushed into their positions shortly before the governing party lost its majority in 2015.
Since the opposition took over the National Assembly last year the court has consistently blocked all bills passed by Congress.
The opposition announced last week that it would appoint new judges and that it would also take the first steps to set up a national unity government. Analysts say such proposals raise the possibility of a parallel state structure.
On Thursday millions of Venezuelans joined a general strike called by the opposition.
At least three people were killed in clashes between police and protesters and there were more than 300 arrests.
Protesters barricaded roads in Caracas and other cities with rubbish and furniture.
The opposition said that 85% of the country joined the strike but Mr Maduro said its effect was minimal and that its leaders would be arrested.
Colombia, France, Spain, the US and the EU have urged the Venezuelan government to cancel the vote for a new constituent assembly on 30 July.
But Mr Maduro has rejected the calls.