Rio de Janeiro begins deploying 10,000 troops to fight crime surge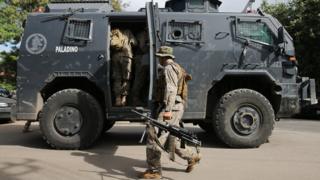 The Brazilian armed forces have begun deploying 10,000 troops in the state of Rio de Janeiro to help the fight against organised crime.
On Friday trucks rolled through Rio as 8,500 soldiers were mobilised. They will be joined by police and highway patrol officers.
Violence has been on the rise in Rio since the end of the Olympics nearly a year ago.
More than 90 police officers have been killed in Rio state so far this year.
Last Sunday, hundreds of relatives of police officers gathered at the seafront in Copacabana to protest against the deaths and demand more support.
The defence minister said that the troops are carrying out intelligence operations and are preparing a number of operations against criminal organisations involved in drug trafficking, cargo theft and other activities.
City of God actor wanted over death of Rio policeman
A decree signed by President Michel Temer allows the troops to stay in Rio until the end of the year.
An average of three people were killed each day by stray bullets in the first six months of this year in Rio, many of them during shootouts between police and drug traffickers.