Venezuela's Maduro claims poll victory as opposition cries foul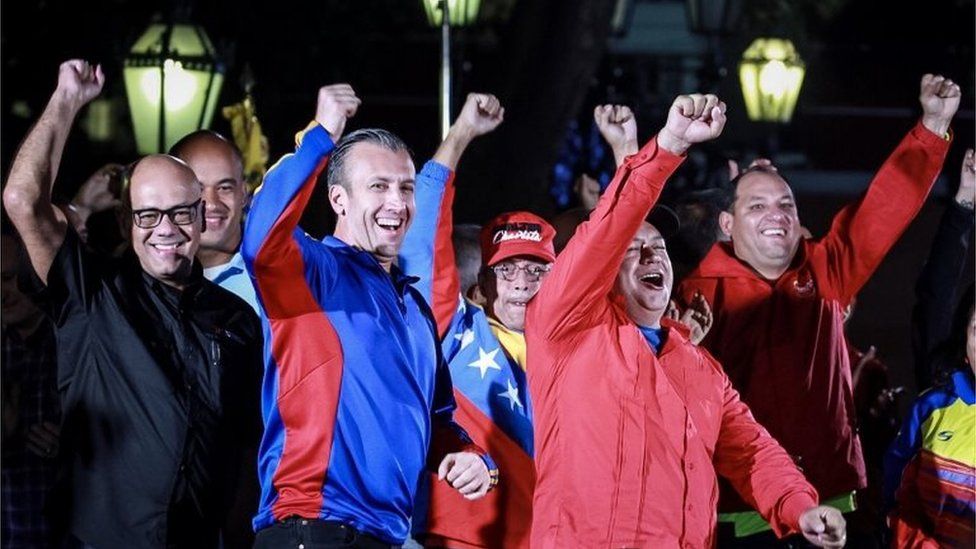 Electoral officials in Venezuela say turnout in the controversial election for a constituent assembly was 41.5%, a figure disputed by the opposition.
The opposition coalition said 88% of voters abstained and it refused to recognise the election. It also called for more protests on Monday.
Sunday's election was marred by violence, with widespread protests and at least 10 people killed.
President Nicolás Maduro hailed the poll as a "vote for the revolution".
Vote highlights polarisation - Katy Watson, BBC South America correspondent in Caracas:
President Maduro spoke at length on television after the results came out.
It was a victory speech for him and his followers but after a day of violence on the streets it's a pretty hollow victory - if you can even call it that.
For all the talk of the vote being an example of democracy, critics accuse him of voter fraud and intimidation and many don't believe the official numbers of voter turnout.
This vote highlights just how polarised the country is with a president who ploughs on regardless of the millions of people who object to it.
The anger was palpable on the streets of Caracas on Sunday with crowds of people defying a protest ban and building barricades, awaiting confrontations with police.
It's a scene we've seen for several months now and one that, given the way this vote has gone, we will no doubt see more of.
Venezuelans were asked to choose the more than 500 representatives who will make up a constituent assembly.
The constituent assembly was convened by President Maduro to rewrite the existing constitution, which was drafted and passed in 1999 when his mentor, President Hugo Chávez, was in office.
The head of the National Electoral Council (CNE), Tibisay Lucena, on Monday announced that there had been an "extraordinary turnout" of more than eight million voters.
She also announced that the wife of President Maduro, Cilia Flores, was among those elected as representatives, as well as the president's close allies Diosdado Cabello, Iris Varela and Delcy Rodríguez.
The announcement was met with outrage and derision by the opposition, who boycotted the vote.
Opposition politician Henry Ramos Allup said their figures suggested fewer than 2.5 million Venezuelans had turned out to vote.
Why is voter turnout such an issue?
With the opposition boycotting the election from the start and not fielding any candidates, it was always less about who would be elected and more about how many Venezuelans would take part in the voting.
The opposition held an unofficial referendum two weeks before the election asking Venezuelans whether they wanted a constituent assembly at all. According to opposition figures, more than seven million Venezuelans rejected the constituent assembly in that vote.
The opposition urged Venezuelans to stay at home and even some Chavistas (supporters of the socialist movement created by President Hugo Chávez and of which Mr Maduro is a part) said they objected to the constituent assembly and would not vote.
There were widespread reports of public sector workers being told by their bosses to go and vote or face being sacked.
How many people turned out was therefore seen as a key indicator of support for the government.
How reliable are the figures?
The opposition claims that the figures are unverifiable because a number of procedures which have been in place at previous elections were not followed.
For example, voters' little fingers were not marked with indelible ink to prevent them from trying to vote multiple times.
There were also no independent observers.
However, National Electoral Council head Tibisay Lucena said voting had proceeded "normally" and that violent outbreaks at a small number of polling stations had been controlled.
Why is the constituent assembly controversial?
President Maduro convened the constituent assembly on 1 May amid fierce anti-government protests.
He argued the constituent assembly would promote "reconciliation and peace", however he did not give details of exactly how rewriting the constitution would achieve such broad aims.
Government critics fear that President Maduro wants to use the constituent assembly to maximise his power and cling on to it for longer.
As the constituent assembly will be drawing up a new constitution it has the potential to fundamentally change how Venezuela is run.
The last time a constituent assembly met in 1999, the legislature was suspended while the constitution was debated.
The opposition has called for fresh protests on Monday.
On Sunday, at least 10 people were killed in protests across the country, prompting opposition leader Henrique Capriles to speak of a "massacre".
Despite a government ban on protests and the threat of jail terms of up to 10 years for anyone disrupting the electoral process, streets were barricaded and a number of polling stations attacked ahead of the vote.
Tensions are likely to increase further on Monday and ahead of the swearing-in of the constituent assembly members on Wednesday.
What have other countries said?
Venezuela is facing mounting international criticism over the new assembly.
On Sunday the US said it was considering fresh sanctions targeting the oil industry there. It has already imposed sanctions on 13 members of Mr Maduro's government.
The US State Department said it would take swift action against what it called the "architects of authoritarianism".
US ambassador to the UN, Nikki Haley, dismissed the vote as a "sham election" and a "step towards dictatorship".
Skip twitter post by Nikki Haley
Allow Twitter content?
This article contains content provided by Twitter. We ask for your permission before anything is loaded, as they may be using cookies and other technologies. You may want to read Twitter's cookie policy, external and privacy policy, external before accepting. To view this content choose 'accept and continue'.
The BBC is not responsible for the content of external sites.
End of twitter post by Nikki Haley
Venezuela's neighbour, Colombia, as well as Panama, Peru, and Argentina among others have refused to recognise the vote.
Peru on Sunday convened a meeting of Latin American foreign ministers for 8 August to discuss the crisis in Venezuela.
The head of the regional body Organization of American States has repeatedly denounced President Maduro's government - leading to Venezuela saying it will leave the bloc.