Chile leader sends gay marriage bill to congress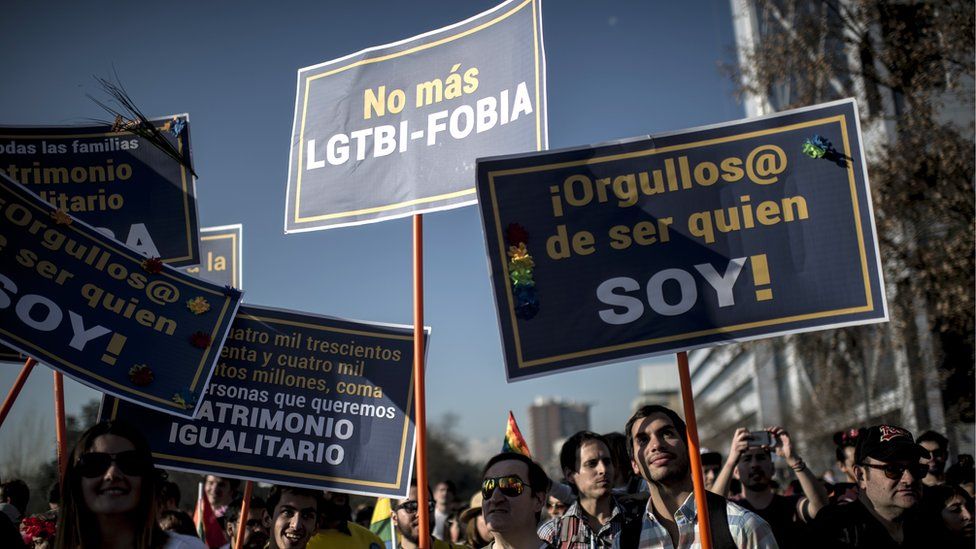 Chilean President Michelle Bachelet has signed a bill that would legalise same-sex marriage, and sent it to congress for debate.
The bill would also allow same-sex couples to adopt children.
Both houses of congress will now debate the bill, a process which is likely to prove lengthy.
"It cannot be that old prejudices are stronger than love," President Bachelet said at a signing ceremony at the presidential palace attended by gay rights activists.
"It's neither ethical nor just to impose artificial limits on love," she said.
The bill seeks to change the existing law which defines marriage as a union between a man and a woman to one of a union between two people.
President Bachelet also wants to give all married couples the chance to adopt, regardless of whether the couple is made up of two partners of the same sex.
Chile is one of the most socially conservative countries in Latin America but President Bachelet has backed a series of liberal reforms in her time in office.
And last week, the constitutional court ruled in favour of a law allowing abortion in the case of rape, when the mother's life is in danger or when the foetus is unviable.
President Bachelet's term ends in March and the bill allowing same-sex marriage is very unlikely to be passed before then.
Sebastián Piñera, who polls favour to win in November's presidential election, has said he opposes the bill.
"There should not be discrimination, but at the same time the essence of an institution such as marriage should be respected, which has always been about conserving the human race," he said.
In Latin America, same-sex couples can already get married in Argentina, Brazil, Colombia, Uruguay and parts of Mexico.
If the bill is passed in Chile, same-sex couples who married abroad will be able to have their union recognised in Chile.