Mexico's Peña Nieto vows to defend 'national dignity'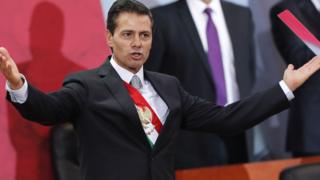 Mexican President Enrique Peña Nieto says he will not accept any proposal that goes against national dignity in its negotiations with the US.
It was his first state of the union address since US President Trump came to power promising to build a wall on the border and make Mexico pay for it.
Mr Peña Nieto's approval ratings have slumped amid concerns over drugs violence and the economy.
He also defended the North American Free Trade Agreement.
President Trump is an outspoken critic of the deal and initiated a renegotiation of the deal in May.
Trade officials from Mexico, the US and Canada are currently holding talks in Mexico City to come up with more proposals.
"The relationship with the new government of the United States, like any other nation, must be based on irrevocable principles - sovereignty, defence of the national interest and protection of our migrants," Mr Peña Nieto said in his annual address.
"We will not accept anything that goes against our national dignity."
Although he did not mention the proposed wall, Mr Peña Nieto said Mexican consulates in the US had been turned into legal advice centres in order to defend the rights of immigrants and to fight discrimination.
President Trump is expected to make a decision on Tuesday over the future of the Deferred Action for Childhood Arrivals (Daca) programme which provides temporary residency for children brought to the US illegally.
The Obama-era programme protects hundreds of thousands of young undocumented immigrants, known as "Dreamers", from deportation and provides work and study permits.
The majority of Dreamers are from Mexico and other Latin American countries.
Mr Trump pledged a hard-line stance on immigration during his presidential campaign and deportations have increased since he took office in January.
However, business leaders have argued that immigration boosts the US economy and that ending the Daca programme would hit economic growth and tax revenue.