Brazil police raids amid 2016 Olympics corruption probe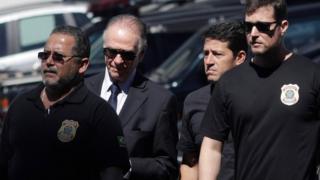 Brazilian police have searched the country's Olympic committee and the home of its chief, who headed Rio's successful bid to host the 2016 Games.
The raids are part of investigations into what police say is "strong evidence" of vote-buying to secure Rio's bid.
The inquiry is being conducted in conjunction with French and US police.
The head of the Brazilian Olympic Committee, Carlos Nuzman, has been questioned and had his passport seized.
Mr Nuzman, 72, has led the committee since 1995, and headed the Rio De Janeiro Organising Committee for the 2016 Games.
Mr Nuzman stands accused of acting as an intermediary in a cash-for-votes scheme to ensure the support of influential IOC member Lamine Diack, was also serving as International Association of Athletic Federations (IAAF) chief at the time.
Mr Diack was arrested in Paris in 2015 for corruption allegations involving the covering up of the Russian doping scandal.
There was no immediate comment from Mr Nuzman on Tuesday, but his lawyer told journalists his client had "done nothing wrong".
The Financial Times reports that luxury apartments, vehicles and aircraft were seized in the raids.
An arrest warrant was issued for Miami-based businessman Arthur Soares Filho, who has been linked to an alleged $2m (£1.5m) payment to Papa Massata Diack, the son of the Senegalese IOC member.
Papa Massata Diack said he was ready to provide proof of his innocence if the investigators came to Senegal, and told Reuters news agency that French prosecutors "had no proof" for their new allegations.
"They want to justify why they are holding my father in France," said Papa Massata Diack, who has an outstanding Interpol warrant over corruption allegations.
Brazilian prosecutor Fabiana Schneider said Mr Nuzman had been a "lynchpin" between Mr Soares and Papa Massata Diack.
She added that the Rio Games had been used as a "trampoline" for corruption in Brazil.
Former Rio State Governor Sergio Cabral was jailed in June for 14 years for corruption and money laundering.
He was convicted of participating in the embezzlement of $64m from construction contracts, including the renovation of Rio's Maracana stadium, where the 2016 opening and closing ceremonies were held.
French prosecutors announced last year that they were widening their investigation into corruption in athletics to include the bidding and voting processes for the hosting of the 2016 and 2020 Olympics.
They issued a statement on Tuesday confirming that Papa Massata Diack and influential members of the IOC were at the centre of the investigation.
"There are several consistent indications that payments have been made in return for the votes of IAAF and International Olympic Committee members over the designation of host cities for the biggest global sporting events," the statement said.
Rio won the Games by 66 votes to 32 in a third round ballot in an IOC vote in 2009, after initially losing the first round of voting to Madrid.
In a statement, the IOC said it had learned about the latest developments from the media and was "making every effort to get the full information".
It had previously confirmed in March that an IOC ethics commission was "working in co-operation with the prosecutor" after initial reports in French media.