Hurricane Irma: How dangerous is the devastating storm?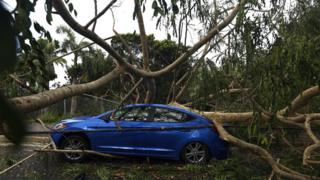 Hurricane Irma has caused a trail of destruction across parts of the Caribbean, battering a number of islands and reducing buildings to rubble.
The powerful storm, which is already said to have affected an estimated 1.2m people, is predicted to head north-west to the United States, reaching Florida or neighbouring south-eastern states from Sunday.
So what lies in its path?
How big and powerful is Hurricane Irma?
Irma has been making headlines as the most powerful Atlantic storm in a decade with wind speeds of up to 295km/h (185mph).
It hit the Caribbean on Wednesday as a category five hurricane, the highest possible level for such a storm, but was downgraded on Friday to a category four.
As the storm hit Cuba, the large landmass slowed the storm to 215km/h (130mph) - but forecasters predict it will strengthen once again.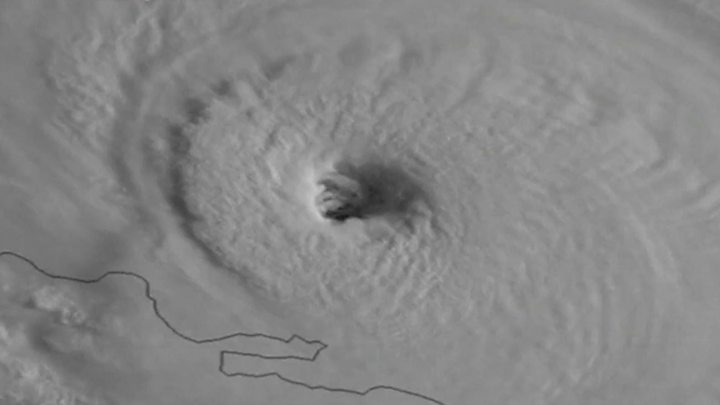 What damage has it done?
The storm first caused massive devastation when it struck the small island of Barbuda - which was later said to be "barely habitable", and the island of St Martin, which is split into the French territory of Saint-Martin and the Dutch country of Sint Maarten.
It also badly hit the French territory Saint Barthélemy, popularly known as St Barts.
At least nine people were reported killed in Saint-Martin and Saint Barthélemy. Another death was later reported in Sint Maarten, with local officials saying that most buildings there have been levelled.
Four deaths were confirmed on the US Virgin Islands, which suffered widespread damage to infrastructure.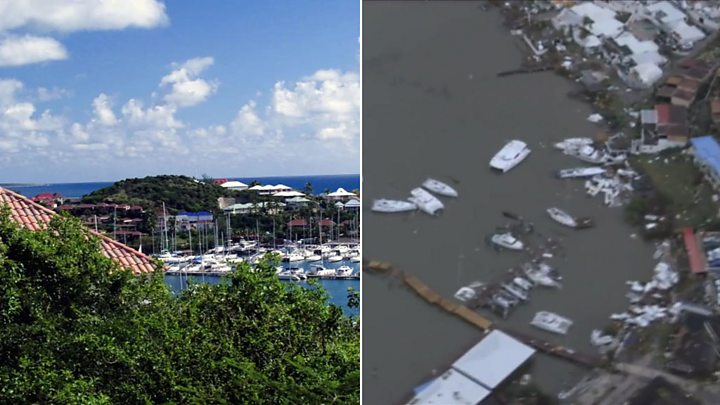 At least three people were reported dead in Puerto Rico, the governor's office said. More than half of the island's three million residents were without power and officials said many could be cut off for several days.
The hurricane also hit the British overseas territories of Anguilla and the British Virgin Islands (BVI), where a state of emergency has been declared.
One person was killed on Anguilla and a child died on Barbuda.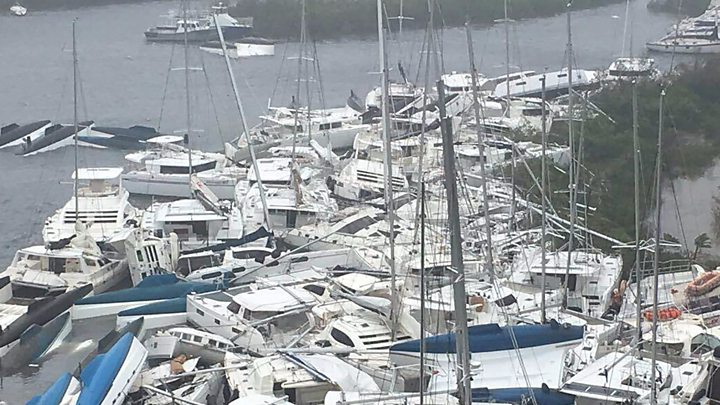 The hurricane went on to batter the Turks and Caicos islands further north on Thursday evening.
Haiti and the Dominican Republic were both affected by the extreme weather, but neither had as much damage as initially feared.
With the scale of the damage still emerging, the death toll across the region is likely to rise.
An estimated 1.2 million people have been affected by Irma and that could rise sharply to 26 million, the Red Cross has said.
What is Irma's projected path?
The hurricane is moving relatively slowly, at about 19km/h (12mph), as it heads towards the southern US coast from the Atlantic.
The eye of the storm is moving across Cuba, and is set to hit Florida as a category four hurricane on Sunday, bringing storm surges and flooding.
More than five million people - at least a quarter of the state's population - have been ordered to evacuate.
About 50,000 tourists are fleeing or have fled Cuba, with resorts on the north coast now empty, Reuters reports.
Forecasters projecting the direction of the storm warn that the path could alter and it should not be seen as a guarantee of safety for those in nearby regions.
How badly will the US be hit?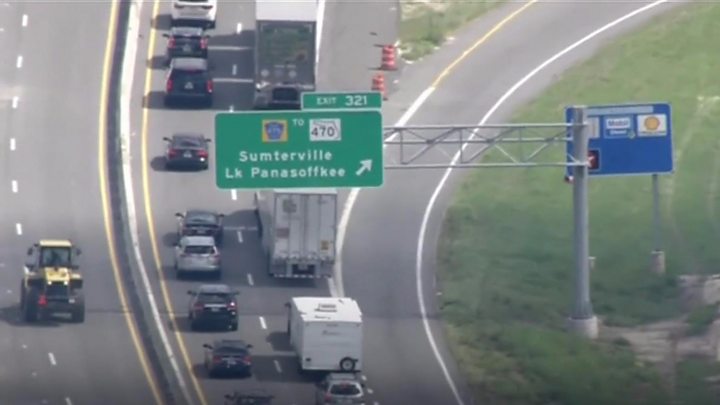 A state of emergency had been declared for Florida and the US is mobilising federal disaster relief efforts. Formal hurricane warnings are in effect for several areas.
A storm surge - rising seawater coming in from the coast - is also expected. Forecasters say the water is potentially life-threatening, with swells up to 12ft above ground.
The National Weather Service has said that there is a possibility that South Florida "may be uninhabitable for weeks or months".
Officials have been evacuating tourists and residents of Florida Keys, a resort archipelago.
Flights to and from several airports in Florida have been suspended, while Orlando's international airport reported that commercial flights would stop from 17:00 local time on Saturday.
The state of Georgia is forecast to be in the line of the storm and is preparing for strong winds and possible flooding this weekend. The governor of Georgia has issued a mandatory evacuation order for the city of Savannah and other coastal areas.
US President Donald Trump has also declared an emergency in South Carolina but forecasters have said that the threat from Irma is expected to decrease as the storm moves northwards.
What about Hurricanes Jose and Katia?
There are two other storms of concern at the moment - Hurricanes Jose and Katia.
Jose, following behind Irma, has been growing in strength and was upgraded to a category four hurricane on Friday, according to the NHC.
Although its path is not clear, Jose could hit some areas already affected by Irma - but is expected to weaken before it reaches them.
Katia, in the Gulf of Mexico, has weakened to a tropical depression, and all warnings have been lifted.
Seeing multiple storms developing in the same area of the Atlantic in close succession is not uncommon.
Rarer though is the strength of the hurricanes, with Hurricane Harvey - which recently hit Texas - also making landfall as a category four.
How are dangerous storms measured?
When storms such as Hurricane Irma are described as "extremely dangerous" and "potentially catastrophic", the threat to humans and property is often unpredictable - we will not know the full extent of the fallout from Irma until later.
Hurricane Wilma, in 2005, had similar wind speeds and killed 87 people, costing billions in damage. But wind speeds are not always a good indicator of the damage a storm can do.
In 2016, Hurricane Matthew, which was less powerful, killed almost 600 people - more than 500 of them in Haiti. The NHC's final report said that poorly constructed homes were "completely destroyed" by winds.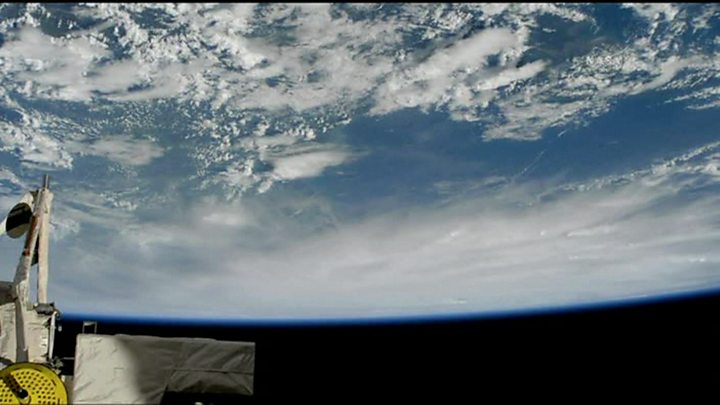 Irma is currently only being beaten by 1980s Hurricane Allen for the strongest and most sustained wind speeds. As it intensified across the Caribbean, it killed six people on St Lucia and 238 in the Antilles islands.
Hurricane Allen then reached a staggering 305km/h (190 mph) at its peak before hitting Texas with 205km/h (125mph) winds.
Fortunately it made landfall in a sparsely populated area of the US state, with few casualties recorded.
Extreme weather patterns are complex, and where the storm hits and how prepared the populace are may have a significant effect.
What should I do to prepare?
Local governments in the path of the storm are issuing their own instructions, which should be followed.
Once the storm is a serious threat, the US NHC advises residents to:
Be prepared to evacuate if you live in a storm surge risk area
Secure homes by covering all windows with strong plywood, if you do not have storm shutters installed
Check the websites, news and radio frequently to make sure you have the latest advice
Take refuge in a small interior room, closet or hallway on the lowest level, with as many walls between you and the storm as possible
Keep away from windows, skylights, and glass doors
Be aware that if the eye of the storm passes over, there could be a short period of calm - but wind speed will rapidly increase on the other side
Ideally, those in the storm's path should have an emergency kit prepared in advance, with food, water, batteries, artificial light and other supplies.