Hurricane Irma: Barbudans tell of daring rescues and loss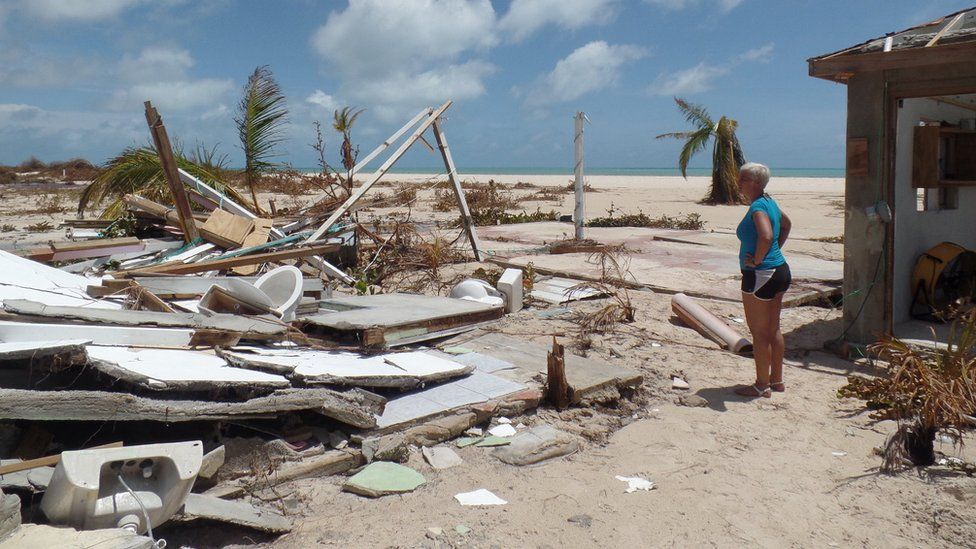 Survivors of Hurricane Irma, which devastated the tiny Caribbean island of Barbuda, have told tales of sheltering in cupboards as the winds tore the roof from their homes, death-defying escapes during the eye of the storm, miraculous rescues and heart-wrenching losses.
The island - once described by the late Princess Diana as the only place she could find peace - is today an expanse of rubble, its charming buildings and rustic surrounds little match for Hurricane Irma.
Almost apocalyptic in its devastation, the wrath of one of the most powerful storms ever to hit the Atlantic is evidenced in the smashed ruins of Barbuda's candy-coloured homes, the hopeless faces of residents who have lost everything they own, and the haunted eyes of their children.
The smell of decaying animals hits us a few moments before we come across the bloated corpses of sheep, lambs and goats, akimbo and undignified, among a mangled mass of uprooted trees.
Irma also wiped out a vast stretch of west coast beach, once a valuable nesting area for critically endangered hawksbill turtles, fringing a lagoon supporting one of the world's largest colonies of frigate birds.
All of Barbuda's 1,800 residents were ordered to evacuate the 62 sq mile (160 sq km) island on Friday as Hurricane Jose approached, amid fears of more fatalities should anybody remain inside the precarious remaining structures.
'I have never been so scared in my life'
Irma had already claimed the life of a two-year-old boy, ripped from a woman's arms as she clung desperately to a post after the storm ripped the roof from her house.
Sira Berzas, 40, related how she and a friend were forced to seek cover on two wardrobe shelves as the wind and rain tore apart their house.
"When the roof came off the bedroom, we tried to get to the kitchen but everything was flying around too much. We ended up in the wardrobe for an hour and 10 minutes," Ms Berzas said.
"I have never been so scared in my life. Jackie and I were holding on to each other and basically saying our goodbyes.
"When the eye came, we ran outside in our underwear screaming for help. Luckily there was a police truck which took us to a safer building."
Ms Berzas lost her Pink Sand Beach home and adjacent bar and restaurant which she opened in 2016. The business was uninsured.
"I have never, ever cried so much," she added.
'The disaster services office is a disaster'
Jamieson and Amy George, and their son Kelijah, 10, spent two and a half hours huddled in the shower of their house in Codrington as Irma wreaked havoc across Barbuda early on Wednesday morning.
"The noise was like howling and pounding; I have never heard anything like it," Mr George said. "Later we came out to find everything destroyed; it's the worst I have ever seen in my whole life."
From Madison Square, Codrington's erstwhile hub, to the K-Club, which had been under redevelopment by actor Robert De Niro, the scale of the destruction is mind-blowing.
The Extra Man bar, usually a hive of activity, is shattered and ghostly quiet, along with the town's tiny grocery stores, ice cream parlour and church.
Even the Disaster Services office is a disaster.
'I rescued an old blind lady'
Policeman Philsbert George was in an upstairs room at the police station in Codrington when he realised the roof was about to collapse.
"I dashed out to the pick-up truck but it was already wrecked," he recalled. "There was water everywhere. During the eye, I rescued an old blind lady; I had to throw her over my shoulder but we didn't make it to the shelter before the winds started up again. I took her to a neighbour's house instead.
"I was acting on sheer adrenalin, I couldn't even think," he added.
Over at the "River" dock, Barbudans and their few salvaged possessions were preparing to board boats, usually used for tourist excursions, to take them to safety in Antigua.
Beautymey John said she did not know where she and her five children would go upon arrival.
"I would rather stay here; it doesn't feel right to leave. We have to try and start again," she said.
Maurice George, a teacher, vowed to return to Barbuda as soon as the secondary school he works in reopens.
And Frederique Bonfils, who is originally from France but moved to Barbuda in 1996, said: "People will not desert Barbuda for anything. This is their home, their land. They are not the type of people to give up."
Gulliver Johnson Francis, from Forest Gate, in London, agreed. Mr Francis, who has a Barbudan mother and moved to Antigua in 2001, said: "I came to check on a couple of properties we have in Codrington. I didn't think they would be too badly damaged, then I got here and it was like Hiroshima."
He added: "I couldn't believe it. But the only thing to match the strength of the hurricane is the resilience of the people. They are determined to rebuild and are just thankful to be alive."