Uruguay Vice-President Sendic resigns in spending row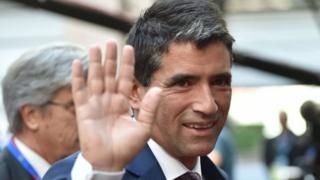 Uruguay's Vice-President Raúl Sendic has stepped down over accusations he used public funds for personal use while heading a state company.
Mr Sendic, 55, announced his resignation in Congress - a move that took the country by surprise.
An inquiry by the ruling left-wing coalition has concluded he used company credit cards for personal shopping when he led Ancap oil firm in 2009-13.
He denies any wrongdoing, saying there was no evidence against him.
"I presented my irrevocable resignation from the vice-presidency to the plenary of the FA (ruling coalition)," Mr Sendic wrote in a tweet (in Spanish) on Saturday.
It is the first time a Uruguayan vice-president has resigned from the post.