Brazilian tycoon arrested after lawyers send prosecutors the wrong tape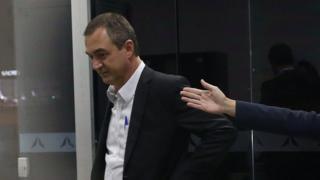 A Brazilian billionaire at the centre of a corruption case involving President Michel Temer has handed himself in to federal police officers in the city of Sao Paulo.
A Supreme Court judge accused the tycoon, Joesley Batista, of hiding evidence he was obliged to provide as part of a plea bargain agreement.
Mr Temer denied the allegations and said he was an unreliable witness.
Mr Batista is the head of the world's largest meat-packing company, JBS.
He made a secret recording of Mr Temer in May in which the president apparently admitted paying bribes to influential Brazilian politicians.
The tycoon made a deal with the prosecutor's office.
He would reveal all that he knew about the alleged corruption scheme in exchange for more lenient treatment from prosecutors.
JBS executives have been implicated in Operation Car Wash, the vast investigation into corruption at state oil giant Petrobras.
'Notorious bandit'
Under the plea bargain, Joesley Batista and his brother Wesley admitted to bribing almost 1,900 politicians in recent years.
President Temer's office called Mr Batista at the time "a notorious bandit" and criticised the police for allowing him to "escape prosecution".
Mr Batista was given until last week to produce all the evidence.
As his lawyers gathered the material, they made a mistake, accidentally sending a tape to the prosecutor's office incriminating Mr Batista.
In the four-hour recording, he seems to admit to a former director of one his companies, Ricardo Saud, that he hid key information from the prosecutors.
The tape was leaked to the media during the week, prompting Prosecutor General Rodrigo Janot to request the arrest of Mr Batista and Mr Saud.
Supreme Court Judge Edson Fachin ordered their arrest on Friday.
The two men gave themselves up in Sao Paulo earlier on Sunday. They are expected to be transferred to Federal Police cells in Brasilia later on Monday.
Politicians close to Mr Temer said they were vindicated by the decision.
Mr Temer faced impeachment proceedings over Mr Batista's allegations.
But a majority of lawmakers in the lower house of Congress voted in August against a proposal to suspend him and allow him to be tried by the Supreme Court for corruption.