Venezuela accuses UN of lying over alleged rights abuses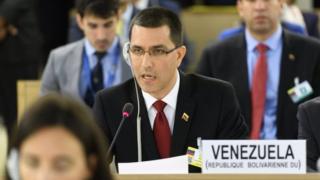 Venezuela's Foreign Minister has accused the Office of the UN High Commissioner for Human Rights of lying.
Jorge Arreaza was responding to a speech by UN human rights chief Zeid Raad Al Hussein warning of possible "crimes against humanity" in Venezuela.
Mr Zeid also said that there was "a very real danger that tensions will further escalate" in Venezuela.
More than 120 people have been killed in Venezuela since a wave of anti-government protests began on 1 April.
'Real danger' of escalation
In his speech at the Human Rights Council session in Geneva on Monday, Mr Zeid said that a report published by his office last month had highlighted excessive use of force by Venezuelan security forces at the protests.
"My investigation suggests the possibility that crimes against humanity may have been committed, which can only be confirmed by a subsequent criminal investigation," Mr Zeid said.
"There is a very real danger that tensions will further escalate, with the Government crushing democratic institutions and critical voices - including through criminal proceedings against opposition leaders, recourse to arbitrary detentions, excessive use of force, and ill-treatment of detainees, which in some cases amounts to torture," he added.
But Mr Arreaza dismissed the allegations as "baseless" and demanded that Mr Zeid "cease his aggression against Venezuela".
He also said that the report by the UN Office for Human Rights was "riddled with lies".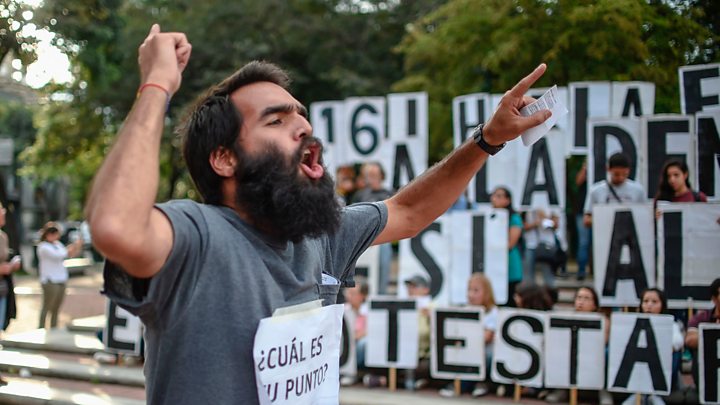 Venezuelan officials have blamed the country's dire political and economic crisis on a war being waged against the government by "imperialist forces".
Speaking about the 121 people he said had been killed in protest-related violence since 1 April, Mr Arreaza alleged that the "majority of these deaths can be directly attributed to the violent actions of anti-government groups".
The UN report put the number of people killed at 124 and said that "the security forces were reportedly responsible for 46 and pro-Government armed groups, known as armed colectivos, for 27".
"Responsibility for the remaining 51 deaths has not yet been determined," the UN report said.
Pope: 'Don't know what Maduro is thinking'
Mr Arreaza said that despite the violent protests which rocked the country between April and July, the opposition in Venezuela was now "back on the path of rule of law and democracy, we will see dialogue emerging thanks to the mediation of our friends".
The opposition Democratic Unity Roundtable (MUD) coalition on Sunday held primary elections to choose the candidates who will run in regional elections to be held in October.
Even though the opposition regularly accuses Venezuela's electoral council of siding with the government, a majority of opposition parties made the decision to take part in the election for governors rather than leave the field to pro-government candidates.
With the opposition concentrating on the upcoming election and opposition leaders who backed street protest potentially facing trial for treason, anti-government protests have almost completely stopped.
However, shortages of medicines, food and other basic goods have not been alleviated, prompting Pope Francis to appeal to the United Nations on Monday to help.
"The most painful is the humanitarian problem. There are so many people fleeing or suffering," he told reporters.
"I don't know what [Venezuelan President Nicolás] Maduro is thinking, I don't know what's going on in his head," the Pope said.