Brazil corruption scandal: President Temer slams judiciary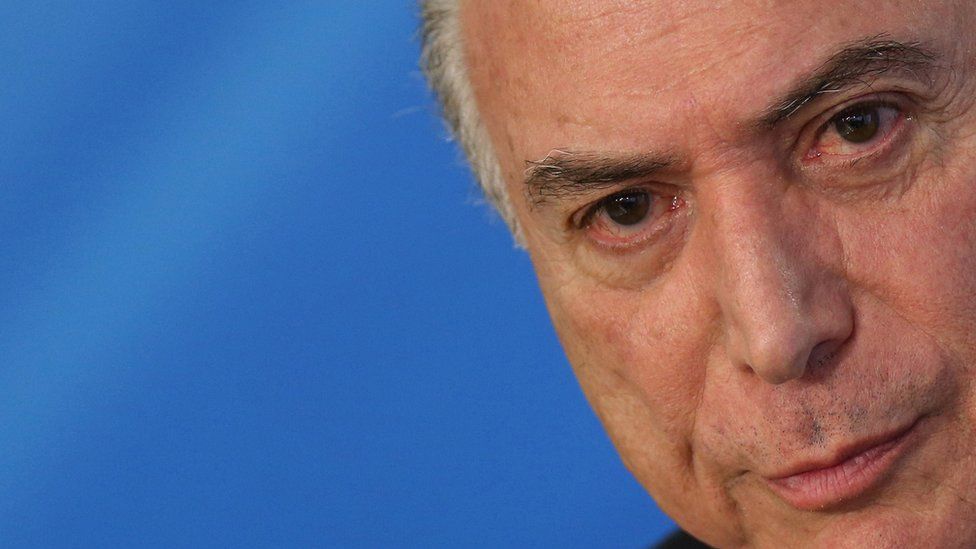 Brazil's President Michel Temer has accused his country's judiciary of using allegations of corruption to destroy reputations.
Mr Temer's statement came just hours before a Supreme Court justice authorised a new corruption investigation into the president.
The president, like dozens of other Brazilian politicians, is already implicated in Operation Car Wash.
Mr Temer has denied all accusations of corruption.
In a statement released ahead of the anticipated announcement of the new charges, Mr Temer's office slammed those investigating alleged corruption.
The biggest investigation of all is known as Operation Car Wash, said to involve bribes at the highest level. Among those implicated in the three-year investigation are two former presidents.
"We have reached the point where they try to convict people without even hearing them - without ending the investigation, without uncovering the truth, without verifying the existence of real proof," Mr Temer's office said.
"Individual rights are being violated every day without the slightest reaction."
The statement went on to question prosecutors' methods, which favoured the use of wire taps and statements from those who make plea deals.
The latest investigation is hinged on a recording of one of Mr Temer's former aides, according to news agency Reuters.
"Reputations are shattered in conversations founded on clandestine actions," the president's statement said. "Bandits concoct versions based on hearsay in exchange for impunity or to obtain a pardon, even partial, for their innumerable crimes."
Supreme Court justice Roberto Barroso decided on Tuesday investigators could probe Mr Temer's link to corruption allegations surrounding a decree regulating ports that the president signed.