Brazil tycoon Wesley Batista held for 'insider trading'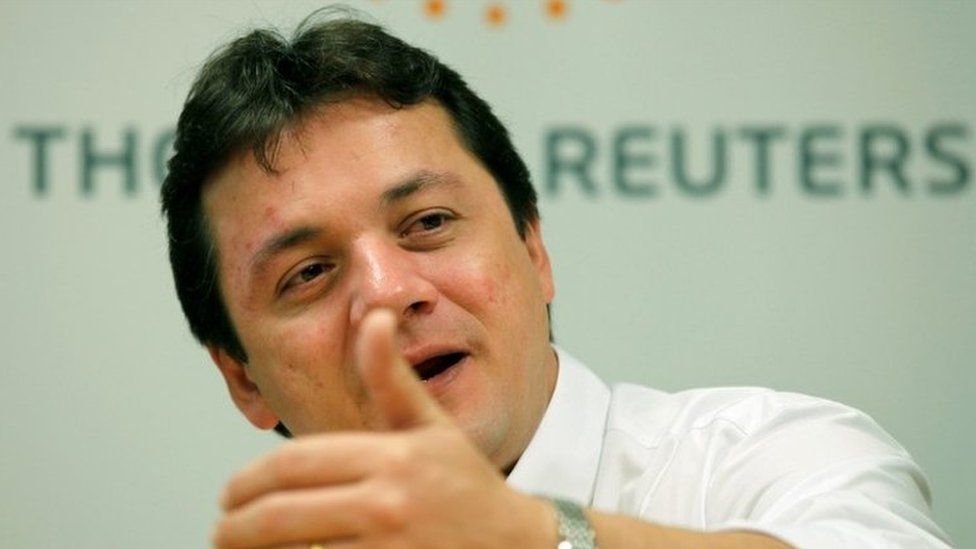 Police in Brazil have arrested the former CEO of the world's largest meat-packing company, JBS.
The company is at the centre of a massive corruption scandal.
Wesley Batista, 44, was detained just three days after his younger brother, Joesley Batista, handed himself in to the authorities.
Both have admitted to bribing almost 1,900 politicians but Wesley Batista's arrest is related to allegations of multi-million dollar insider trading.
Investigators allege that the two billionaire brothers sold a large number of shares in their company in the weeks before they revealed information about how they bribed high-ranking officials, fully knowing that the revelations would cause their company's shares to tumble.
Police say the brothers saved $44m (£33m) through the alleged insider trading and that they knew that the information they had could help move financial markets.
Joesley and Wesley Batista then entered into a plea deal with investigators, which offered them immunity from prosecution in exchange for information about their company's bribery scheme.
President Temer faced impeachment proceedings over Mr Batista's allegations.
But a majority of lawmakers in the lower house of Congress voted in August against a proposal to suspend him and allow him to be tried by the Supreme Court for corruption.
Shares which the Batista brothers had sold at a premium in the weeks prior to their revelations were now worth much less.
But their plea deal meant that the brothers remained free in the following months despite having admitted that their company had bribed almost 2,000 people.
However, Brazil's Securities and Exchange Commission, which regulates capital markets, continued investigating the brothers for alleged insider trading.
And it is these accusations which have now led to the arrest of Wesley Batista.
Prosecutors managed to get an arrest warrant after they successfully argued that the brothers had not mentioned the alleged insider trading as part of their plea deal and that therefore the immunity they had negotiated for their bribery scheme did not apply in this case.
However, Wesley Batista's lawyer said the former CEO's detention was unjust and amounted to revenge against those who had co-operated with justice.
His younger brother Joesley is also facing charges of insider trading.
An arrest warrant had been issued for him on Friday after a tape emerged in which he appears to admit he hid information from prosecutors, which he denies.