Brazil's ex-leader Lula appears in court in corruption case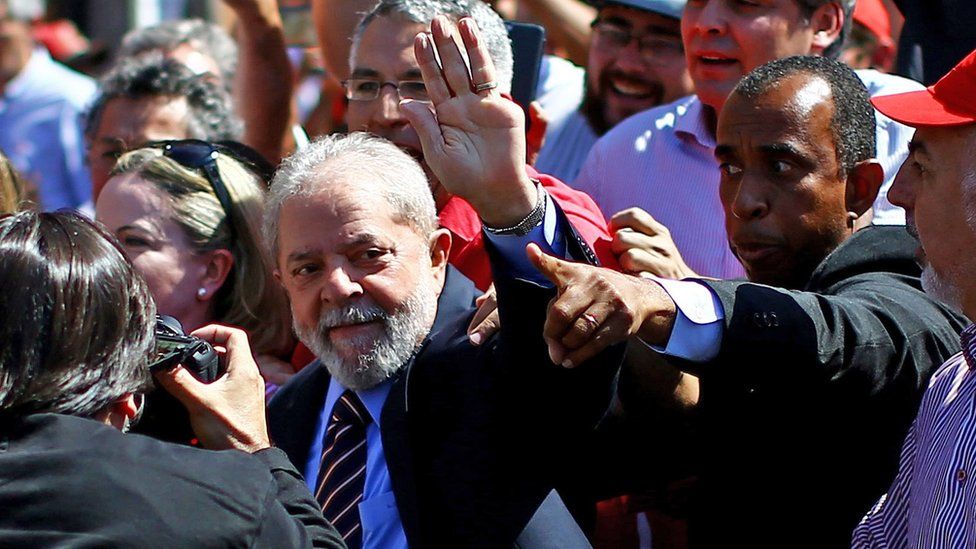 Former Brazilian President Luiz Inacio Lula da Silva has been questioned by a top anti-corruption judge over allegations he accepted bribes.
He is suspected of letting construction giant Odebrecht buy the land for his Sao Paulo institute and providing him with an apartment nearby.
Lula denied the accusations in two hours of questioning by Judge Sergio Moro and vowed to prove his innocence.
Polls suggest he is the would-be front-runner for the 2018 elections.
In July, Judge Moro sentenced Lula to nine and a half years in prison for accepting bribes from engineering firm OAS in the form of a beachfront apartment in return for his help in winning contracts with Brazil's state oil company, Petrobras.
Lula remains free while he is appealing against the sentence. Unless his appeal succeeds, he will not be able to stand for the 2018 election.
The questioning was led by Judge Sergio Moro, who is in charge of Operation Car Wash, the country's biggest ever corruption investigation.
The BBC's South America correspondent Katy Watson says Judge Moro is a divisive figure in Brazil.
To some he is a superstar anti-corruption crusader while to others he is a man on a mission to destroy the former president and the Workers' Party Lula led, our correspondent says.
Lula says the corruption charges have been brought against him to prevent him from running in the election.
He governed the country between 2003 and 2011 and enjoyed huge popularity at the time.
Not able under Brazilian law to stand for a third consecutive term, he was succeeded by his protege, Dilma Rousseff, who was impeached last year accused of breaking budgetary laws.
Lula still has a lot of name recognition and remains popular with many in the Workers' Party.
Dozens of buses carrying Lula's supporters arrived in Curitiba, officials said, and hundreds of them gathered to show their support on the streets next to the court - although the area in front of the building had been blocked by police.
A demonstration against the former president and in support of the investigation was held in a different part of the city, and officials said there had been no reports of violence.
Testimony given by his former right-hand man, Antonio Palocci, last week strengthened Judge Moro's case.
According to Palocci, Lula had agreed with Odebrecht that the company would pay $96m (£73m) to the Workers' Party in exchange for commercial contracts and benefits.
But on Wednesday Lula said Palocci - who had served as his finance minister - lied and that he was trying to reduce his jail sentence.