Venezuelan charged over Supreme Court helicopter attack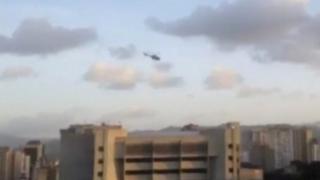 Venezuela's chief prosecutor's office has charged a man named as Frank Cabaña with "complicity and association with terrorism" over a June helicopter attack on the Supreme Court.
The office did not give any further details, except to allege that Mr Cabaña is linked to the rogue policeman Óscar Pérez, who said he had piloted the helicopter.
Mr Cabaña has been remanded in custody.
Mr Pérez remains at large but has appeared in a number of videos.
Surprise air attack
The attack on 27 June came amid a wave of anti-government protests.
A lone helicopter flew over the capital, Caracas, fired 15 shots at the interior ministry and dropped four grenades on the Supreme Court before flying off.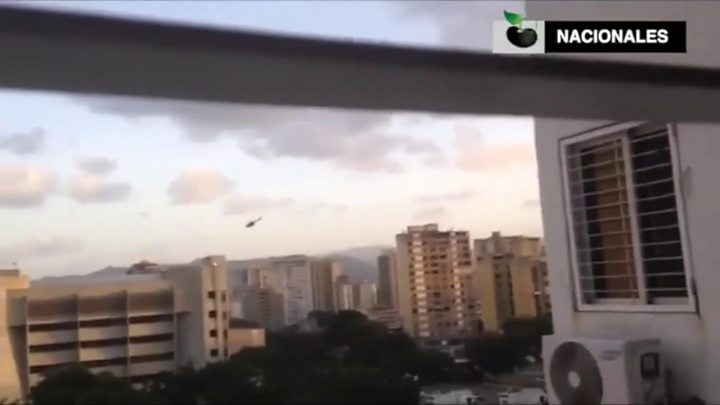 No one was injured in the attack.
Images published on social media showed two people inside the helicopter, one of them masked.
A flag reading "350 Freedom", a reference to a clause in the Venezuelan constitution cited by opponents of President Nicolás Maduro to claim his government is illegitimate, hung from the helicopter.
A video later emerged on social media platform Instagram showing a member of the police identifying himself as Oscar Pérez and claiming he had carried out the attack.
Appearing in military fatigues and flanked by armed, masked men in uniform, he appealed to Venezuelans to oppose "tyranny".
President Maduro said the incident was a "terrorist attack" aimed at driving him from power.
The armed forces found the helicopter a day later in a wooded area near the small town of Osma, less than 70km (43 miles) north-east of Caracas.
Fugitive Venezuelan pilot reappears
Who piloted Venezuela's helicopter attack?
Vice-President Tareck El Aissami tweeted a picture showing the helicopter.
Despite Mr Pérez appearing at a number of anti-government protests in Caracas and publishing further anti-government videos, he has remained at large.
The chief prosecutor's office did not say how it tracked down Mr Cabaña or what his alleged role in the attack may have been.
It also did not give any news on Mr Pérez.