Mexico earthquake: Praise for those who raced to help others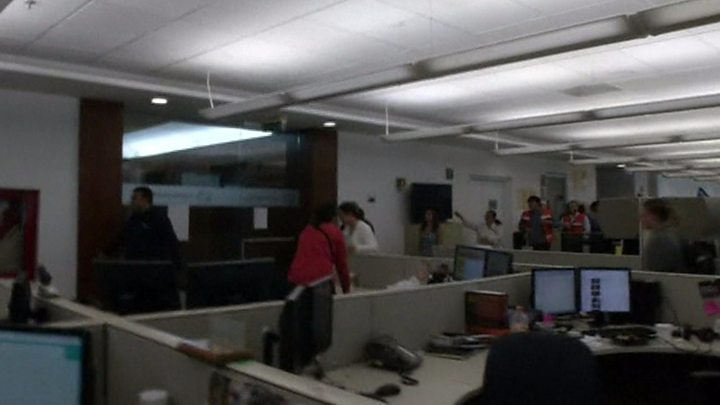 There has been praise for the selfless actions of people who rushed to help victims of the earthquake in Mexico.
One man described how people came together to move rubble from buildings so emergency workers could get to those who were trapped. Others have been sharing food and water with people who lost everything.
Frederik Trovatten, a Danish citizen who works in Mexico City, said: "Everyone has come together and you see the best in people at times like this."
Manuel Mavroleon Aguayo, an armed services reservist, said "a huge wave of people emerged out of where they were to help with the rescue effort" in the Mexican capital.
"Many formed chains to help pass down rubble from buildings so we could get to people who were trapped," he said.
"I was part of a team who pulled out seven bodies from the rubble of a building. Two were alive but the other five did not make it."
Many supermarkets and restaurants were damaged or forced to remain closed because of concerns over gas leaks, but Mr Trovatten said he had been overwhelmed by people's generosity towards each other.
"There are lots of people trying to help each other with food and water," he said.
'The ceiling was cracking'
Financial journalist Vanessa Buendia said it was almost impossible to run outside to safety in Mexico City when the earthquake struck because the ground "was literally jumping up and down".
Ms Buendia was in the shower and suddenly heard her flatmate shouting "earthquake!" at the top of her voice so she grabbed a towel and ran out.
However, she decided to go back to her flat to get her phone so she could call her parents.
"I could hear the ceiling cracking, things were smashing around me and furniture was toppling over," she added.
"I shouldn't have gone in for my phone, but that's the decision I made.
"And as much as you want to run you can't as you lose all balance.
"The scariest part was looking at the floor, it was literally jumping up and down."
You might also like:
Oops! Wedding guests in fashion faux pas
Harassed women tag this man for help
Treating trauma with tea and kindness
Other people have spoken about how upsetting it was not to be able to contact friends and family quickly to see if they were safe.
Jennifer Swaddle said her class of seven-year-olds at the British International School in Mexico City had initially been very worried about their families.
"The children were very upset as a lot of their parents work in the city and they can't communicate with them as they left their bags inside the classrooms."
And Elizabeth Baca, another resident caught in the earthquake, said she found a woman crying outside her flat in Mexico City because she was unable to get in touch with her son who was at school.
Ms Swaddle, who is from Northumberland, said she was fortunate because her pupils realised before her the quake was starting and they got out before their classroom was damaged.
"The alarm didn't go off and the shaking got worse and worse but the students cottoned on quicker than I did and started evacuating.
"As they were getting out the outer wall of my classroom partially collapsed but luckily no one was hurt."
By Annie Flury, UGC and Social News Team