Mexico earthquake: The neighbourhood where one house survived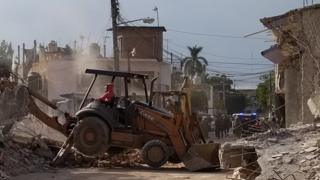 While more than 100 buildings collapsed around it, the home of Hortensia Navarro in Mexico's Morelos state managed to withstand the impact of the devastating 7.1 magnitude earthquake.
Her house, in Jojutla, is still standing. The surrounding school, church and dozens of other homes, meanwhile, have been reduced to rubble.
Jojutla is one of the towns closest to the epicentre of Mexico's latest quake, which struck on Tuesday afternoon killing more than 230 people across the country.
"I don't get it, I don't get it," Ms Navarro said while looking around.
She added, without finishing her sentence: "This little house is very sturdy, you see, because look at all the neighbours…"
Wherever you look in the area of Emiliano Zapata in Jojutla, there is only devastation.
Almost all of the buildings in the area were constructed using solid materials - concrete, metal rods and bricks - but they were not able to withstand the intensity of the earthquake that originated less than 50km (30 miles) away.
"I did not feel the movement [at first], but I heard my daughter, shouting and shouting, and then I felt it, very strongly. So strong that I fell over," Ms Navarro, 50, said with her gaze fixed on her two-storey house.
At the time she was convinced the concrete walls were going to fall on her.
Although the house is in need of repairs, Ms Navarro was at least able to sleep under her own roof on Wednesday night, unlike her neighbours who slept in the streets or in shelters.
'Situation is critical'
The situation in Jojutla is one of the most critical, said the governor of the state of Morelos, Graco Ramírez, after visiting the area, where at least 16 people were killed. So far 60 deaths have been registered in the state.
Buildings of all types, including the local council, are now so fragile that almost all of the streets in the centre are cordoned off because of the risk of collapse.
"The situation is really critical. There are constructions with foundations that are really damaged. They could fall down at any moment," said Daniel Bailón, a student who has joined hundreds of other volunteers working day and night in the town.
But the incident that sparked the most horror was the crumbling of the local primary school, where classrooms collapsed just metres from Ms Navarro's house.
"Everyone was running to find their children at the school. When I went out [into the street], it had already fallen down," she said.
Twenty-four hours after the earthquake, it was still not clear from the local authorities if there had been any deaths at the school.
They said that when the quake struck, at 13:14 local time (18:14 GMT), the children were not in class.
"It was very lucky. [There are] a large number of damaged buildings and a low number of deaths, as far as we know," said Ramiro, a rescue worker who had arrived with a team from Mexico's Jalisco state.
Furniture on streets
Hundreds of volunteers, mostly young people, were later seen walking in groups through the streets of Jojutla offering to assist with the rescue efforts.
Some carried construction tools, others had large boxes of water and food, trying in any way possible to help the hundreds of affected families.
One of those affected was Delia Ramírez, who lost her house and almost all of her belongings.
"It happened in seconds, from the moment it began to when it turned really ugly. We took refuge in the street, where we stood, hugging. And when we turned around, the house had fallen down," she said.
"I never imagined this in my life. It is complicated because… we know what happened to our brothers in Chiapas," she said, referring to Mexico's other recent quake on 7 September in the country's south-east.
"But when it happens to you, it is terrible."
Only the cracked facade remains of the house where 22-year-old Samanta Argüelles lived.
"We don't know what we are going to do. We are saving what little we can," she said, surrounded by furniture.
Waiting for help
This scene is repeated over and over again in the most-affected streets in Jojutla: people are realising that their houses are completely uninhabitable and speaking with resignation, instead of expressing a pain that would be more than understandable.
"Thank god, we all got out. It was nothing more than lost possessions; the house," said Ms Argüelles.
However, the urgent need to reconstruct was evident.
Governor Ramírez announced on Wednesday that he was moving his office in Jojutla to supervise the emergency work.
But, in the area of Emiliano Zapata at least, residents have complained that they have yet to hear from the authorities.
"We need help. All my neighbours have been left without houses, they all fell down. Lives were lost," Ms Navarro said.
Ms Ramírez, her neighbour, also spoke of the situation's urgency. "Those of us that have lost our houses, we have nowhere to go," she said.