Mexico earthquake: Girl who captivated the nation never existed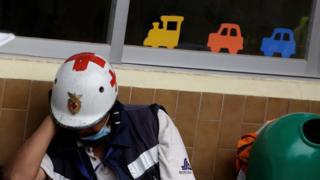 Frida Sofia, a young girl believed to be trapped in the rubble of a collapsed school, stole the heart of a nation shocked by a deadly earthquake on Tuesday. But it seems Frida Sofia never existed.
As rescue workers raced to free people from the ruins of Enrique Rébsamen school, Mexicans fixated on the fate of the child.
"Frida Sofia" had apparently said, "I'm thirsty, I'm okay. Please don't take too long", Mexican newspaper El Universal reported on 21 September.
But on Thursday night the navy confirmed the story of Frida was false and apologised for conflicting reports.
Frida Sofia was believed to be one of numerous children and adults trapped for more than 32 hours.
For two days journalists gathered at the scene and social media users shared memes and emotional messages of support in more than 350,000 tweets.
"Little Frida Sofia has survived 32 hours trapped under the rubble, fighting for her life. A real fighter, soon she will be out of it," wrote Mexican YouTuber Ryan Hoffman, in a tweet shared more than 5,000 times.
Rumours seemed to be confirmed by Navy Admiral Jose Vergara Larra who told media that after four hours of rescue operations they had detected a girl who was alive.
Reports that no-one had come forward as parents of the child sparked some scepticism and the school itself said on Thursday morning they had no student registered under that name.
The story of Frida Sofia was "not a reality", Angel Enrique Sarmiento, the under-secretary of the navy, reported on Thursday afternoon.
There were no signs that a child was alive in the ruins of the school and government authorities said they had never known about a child called Frida Sofia, he claimed.
However, on Thursday night Mr Sarmiento contradicted his earlier statement, confirming that the navy had distributed reports of a surviving girl.
"I offer an apology to Mexicans for the information given this afternoon in which I said that the navy did not have any details about a supposed minor survivor in this tragedy," Mr Sarmiento told reporters at a news conference.
The body of a female teacher was found on Thursday night.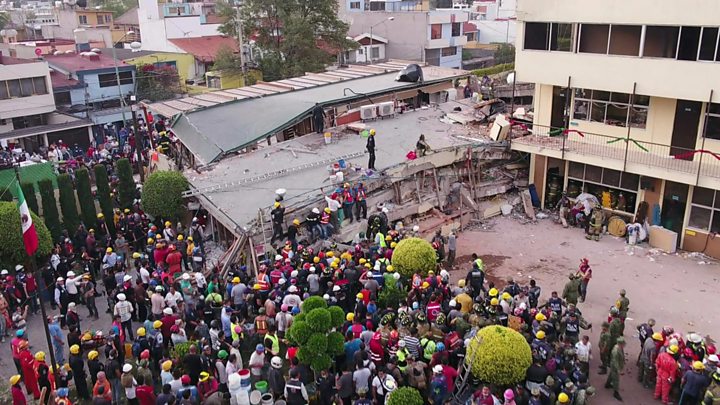 Spanish newspaper El País attributed the case of the "girl that wasn't" to a lie or a collective psychosis, suggesting it mirrors the story of Monchito, a child invented in the 1985 earthquake in Mexico that killed at least 10,000 people.
A column in Mexican news magazine Proceso criticised the media for creating a "reality show" out of the disaster and fuelling rumours of a girl that turned out to be made up.
On Friday officials said the death toll from the earthquake on Tuesday has risen to 273.
By Georgina Rannard, UGC & Social news