Hurricane Maria: 'Will my dad get his cancer treatment?'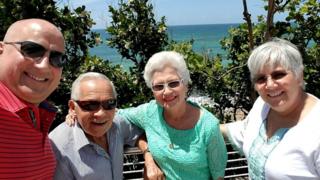 When Hurricane Maria hit Puerto Rico at the weekend, Sofia Abregu filmed it.
"Now the water is coming through the windows. Now the windows are shaking," she narrates in the wobbling mobile phone footage she sent to the BBC.
She sheltered in the beachfront apartment in the capital San Juan, where she works, but Sofia's mother was not so fortunate. She called her daughter as her street in nearby district Levittown was submerged in a storm surge.
"She thought it was a tsunami. She was screaming and then the phone cut out," Sofia explained. "I did not find out for another eight hours that she was alive."
After coping with the trauma of the hurricane, she and millions of Puerto Ricans are now facing the aftermath of the destruction of homes, power lines, and basic services.
More than 10,000 US Federal Emergency Management Agency (Fema) staff are on the ground, according to the agency. President Donald Trump announced on Tuesday that he would travel there next week.
But residents say they are clearing up alone.
"The roof is gone. The house is a slimy green-yellow colour because of the water and it smells so bad," Sofia explains.
"Fema is a ghost that everyone is looking for but no-one can find," she told the BBC from an eight-hour queue for fuel to power her generator.
Medical crisis
Cristina Cabrero doesn't know if her father, Juan Molina, will get the life-saving care he needs to treat his aggressive cancer.
"My dad has plasma cell cancer. He has decreased function of his kidneys, red blood cells and immune system as well as damaged bones."
"When there is a gap in his treatment of over two weeks, his cancer gets out of control," she says.
Landlines have been destroyed and mobile phone communications are patchy, making it impossible for Cristina to reach Juan's doctors.
Luckily the hurricane hit during the "week off" in his treatment cycle, but on Thursday he will require blood tests to assess his treatment levels.
"I don't know if the labs are open to do his tests. If they are, do the hospitals have medication? If they have run out, can supplies be shipped in? We don't know."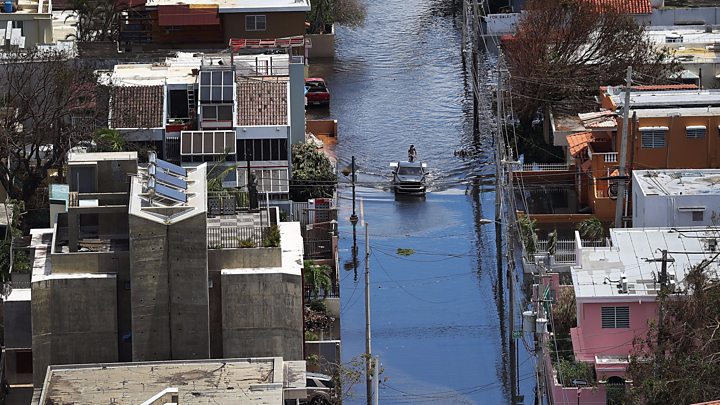 Hospitals are facing a dire situation, explained Gerardo Torres, a doctor at University District Hospital in San Juan.
"Right now the main problem is delay of treatment. Operating rooms are closed due to lack of air conditioning and operating kits cannot be sterilised. Also, fuel shortages are making transportation difficult to contact ambulance services for patient pick up and transfer," he told the BBC.
Cristina wants to evacuate her father if he can't be treated, but the airport in San Juan is already full of desperate people trying to leave.
"At this point, when would I get him out? Mid-October? That's useless for a cancer patient. It doesn't paint a good picture for his prospects."
Security fears
"It's like driving past a car wreck that just never stops," Ian Stevenson says about the scale of destruction on the island.
"I heard gunshots firing for 10 minutes two nights ago. I'm staying close to home when I can."
Food is also scarce and Ian says people worry they will be robbed when they leave supermarkets with food.
He normally runs a shipping company around the Caribbean, but has been offering his services to deliver aid to other ravaged islands.
"Fema asked me for 500,000 gallons of water - there's a kids' hospital in San Juan with no water," he told the BBC.
"I'm lucky that the ships use diesel - tonight we'll start running ships with aid to Le Croix, St Thomas and Tortola. They're totally destroyed."
He is keen to point out the positive things he has witnessed.
"My community has come together. Neighbours helping neighbours. Strangers taking strangers into their homes as refugees."
Cristina says: "That's the real story from Puerto Rico - people coming out and helping each other.
"But it's all very scary - I'm leaving my parents in the hands of God."
By Georgina Rannard, UGC & social news