Trump flies into storm-hit Puerto Rico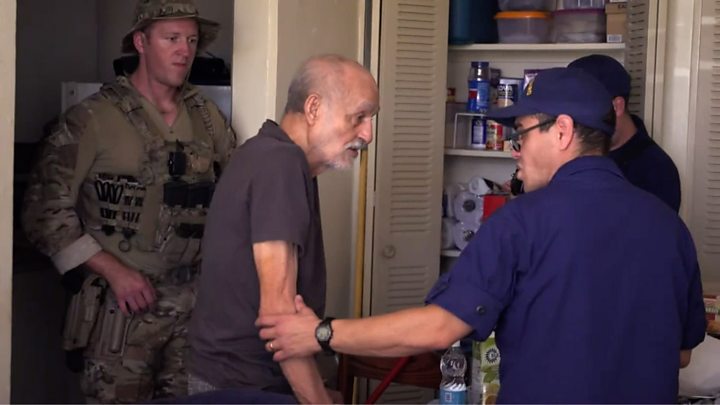 The Governor of Puerto Rico, Ricardo Rossello, says US federal support has surged ahead of President Trump's visit.
Mr Trump flew in to the US territory for a short visit on Tuesday morning.
He has fiercely rejected criticism of the relief effort after Hurricane Maria struck the island nearly two weeks ago.
The governor said over 1.5 million barrels of fuel would reach Puerto Rico in the coming days.
He said about half of Puerto Rico now had water supplies.
Federal authorities say more than 10,000 relief workers are now on the ground covering the whole island.
Seven graphics that sum up Puerto Rico disaster
Governor Rossello said about a quarter of Puerto Rico would regain power by next month with around 10% of households expected to have electricity in the next two weeks.
He added that almost half - 47% - of residents had running water and the number would climb to 60% by the end of the week.
Mobile phone service has been restored to 40% of the population although some areas are still cut off from communication.
The governor said the most pressing issues were getting diesel fuel to hospitals so they could run generators to provide electricity.
Around 10 hospitals have power but some have shut down temporarily.
Mr Rossello explained that the critical issue was how to distribute water, food and medicines to neighbourhoods and towns with many roads impassable or damaged.
There are still around 8,000 people in around 140 shelters around the island.
Speaking shortly before he departed for Puerto Rico, US President Donald Trump said: "Now the roads are cleared and communication is starting to come back."
He added that Carmen Yulin Cruz, the mayor of the island's capital San Juan, had "come back a long way" since he criticised her on Saturday.
President Trump had posted a series of tweets in which he said Puerto Rican officials showed "poor leadership ability" and "want everything to be done for them".
On Monday, Ricardo Rosello greeted at the airport a group of Latin pop music stars led by Puerto Rican singer, Luis Fonsi, known for his global hit "Despacito", who flew to San Juan to deliver humanitarian aid to victim of the hurricane.
Among the group were Ricky Martin, Chayanne, Gloria and Emilio Estefan and Nicky Jam.
President Donald Trump has defended his administration's efforts in Puerto Rico, tweeting: "We have done a great job with the almost impossible situation in Puerto Rico.
"Outside of the Fake news or politically motivated ingrates people are now starting to recognize the amazing work that has been done by FEMA and our great Military."