Brazilian Fabio Rochemback arrested in 'cockfighting' raid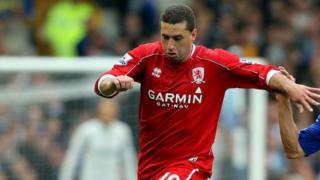 Brazilian footballer Fabio Rochemback - formerly of Barcelona and Middlesbrough - has been arrested after an alleged cockfighting ring was busted in the country's south.
A police operation was conducted at a farm in Rio Grande do Sul state, reported news site Globo.
It said 89 roosters were seized and more than $100,000 (£75,000) in cash.
However, his father said his son was not present at the scene. Cockfighting is banned in Brazil.
UOL Sport reported that police arrested 57 people, out of 147 present during the early-morning raid close to Palmeira das Missoe.
But Rochemback's father Juarez said they had been together at the family farm elsewhere in the state.
Fabio Rochemback, now retired from football, was part of Brazil's national team.
He also played for Sport Club Internacional, Barcelona and Sporting Lisbon, before joining Middlesbrough in August 2005.