Colombia's ELN rebels admit killing indigenous leader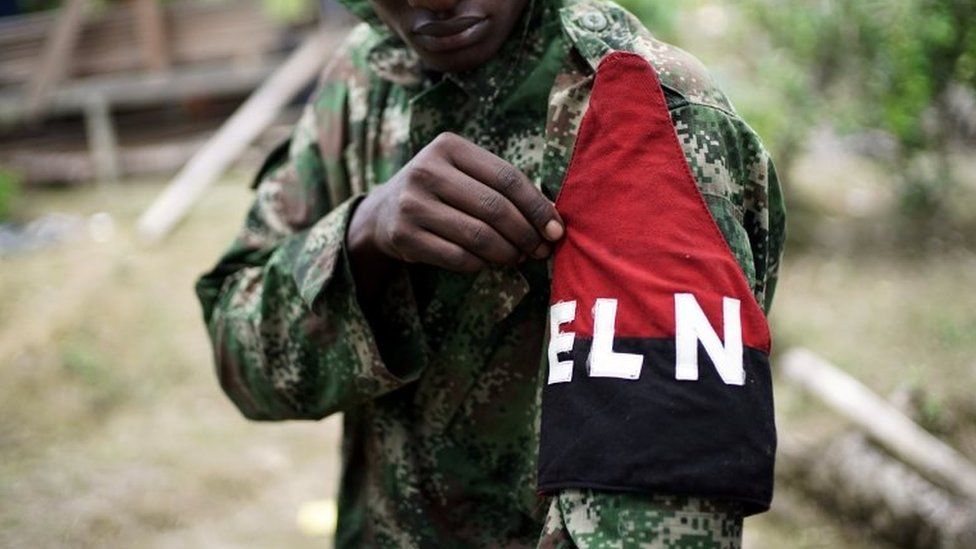 A Marxist rebel group in Colombia says its members killed an indigenous leader in the north of the country last week.
The man's death came less than a month after National Liberation Army (ELN) rebels declared a ceasefire as part of peace talks.
The ELN said that the killing had not been ordered but was in "self-defence".
The rebels said that they had seized Mr Isarama "to question him" about his alleged links to military intelligence services.
While he was being taken to an interrogation site, Mr Isarama tackled one of the guerrilla fighters, the ELN alleged, "leading to the tragic outcome".
The guerrilla group was founded in 1964 to fight against Colombia's unequal distribution of land and riches, inspired by the Cuban revolution of 1959
Over the decades, the group has attacked large landholders and multinational companies, and repeatedly blown up oil pipelines
To finance itself it has resorted to extortion, kidnappings and drug trafficking
It has been strongest in rural areas
The ELN leadership said that it had neither ordered nor given authorisation for the killing of Mr Isarama.
It also said that it remained committed to the ceasefire which came into force on 1 October.
But Juan Camilo Restrepo, the chief government negotiator at peace talks with the ELN, called the killing "deplorable".
Mr Restrepo wrote on Twitter that it would be up to those monitoring the ceasefire to take a stand on the matter, as well as the judiciary, as the killing was "a terrible crime".
El mecanismo de seguimiento y verificación del cese al fuego habrá de pronunciarse; además de los jueces pues es un crimen repudiable.

— Juan Camilo Restrepo (@RestrepoJCamilo) October 30, 2017
On Friday, Colombian President Juan Manuel Santos said that if it was proven that the ELN was behind the death, it would constitute a breach of the ceasefire.
The group released its statement saying it was responsible on Sunday.
Indigenous groups from northern Chocó province had said from the beginning that the rebel group was responsible for Mr Isarama's killing.
They said five armed men in ELN uniforms led Mr Isarama away and that they heard shots two hours later.
They also said that the rebel group continued to lay mines in their areas and threaten their communities.
Peace negotiations between the ELN and the government started in February. The bilateral ceasefire was seen as the biggest achievement of the talks so far.