Santa Muerte: The rise of Mexico's death 'saint'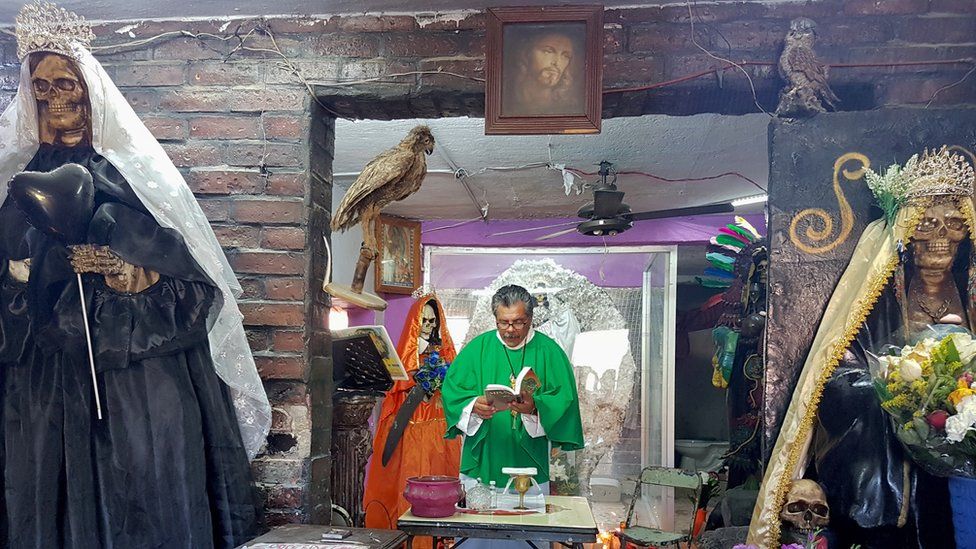 With readings, hymns and communion, Daniel Santana's Sunday service could pass for a traditional Catholic Mass, if it were not for the cloaked skeletons and skulls that surround him.
The ceremony takes place at a modest temple to Santa Muerte, the Mexican folk saint of death, in a rundown area of Guadalajara, the nation's second biggest city.
Despite a reputation as a death cult for criminals and drug traffickers, Santa Muerte has surged in popularity and taken on an increasingly prominent and polemic role in the Day of the Dead festivities held every 1 and 2 November.
Also known as the Bony Lady, the followers of Santa Muerte say her appeal lies in her non-judgemental nature and her supposed ability to grant wishes in return for pledges or offerings.
"It's a widely misunderstood faith. It's not a satanic Mass," says Mr Santana, a lifelong devotee who has officiated at Santa Muerte temples across Mexico since 2010.
"She gives people what they want and when they finish their cycle of life here on earth she comes for their souls," Mr Santana adds. "She's just fulfilling God's orders," he says.
Reclaiming the Day of the Dead
According to Andrew Chesnut, author of Devoted to Death: Santa Muerte, the Skeleton Saint, this is the fastest growing religion in the Americas, with an estimated 10 to 12 million followers worldwide.
Mr Chesnut says more and more devotees have started incorporating Santa Muerte into Day of the Dead celebrations over the past five years.
Although many Mexicans see no connection between the two, both are thought to stem from Mictecacihuatl, an Aztec goddess who presided over a festival of death every August.
After conquering Mexico in the 16th Century, the Spanish encouraged locals to honour the deceased on All Soul's Day, leading to the emergence of the Day of the Dead as a fusion of Catholic and indigenous beliefs.
Mr Chesnut says devotees have begun to recognise Santa Muerte as the reincarnation of Mictecacihuatl and reclaim the Day of the Dead as her unofficial feast day, provoking what he says is a "huge panic" within the Catholic Church.
In honour of what he calls Santa Muerte's "special day", Mr Santana is planning a Day of the Dead celebration with live norteño music and dancing.
Attendees will bring offerings such as tequila, beer, cigarettes, traditional snacks and flowers for Santa Muerte and deceased friends and family.
Santa Muerte is particularly popular among the most marginalised sectors of society, including migrants and the LGBT community.
During the Sunday service, Mr Santana leads prayers for street children, addicts, convicts, single mothers, the unemployed and the disabled.
Worshippers ask Santa Muerte for economic prosperity, less violent crime and support for Mexico's recent earthquake victims.
"Everyone has their own beliefs and their way of living. We're very open here," says the temple's owner, Miguel Ángel Lemus.
"Sometimes people come to her because they don't believe in other saints," Mr Lemus adds. "It all depends on how strong your faith is. If you believe in her, she'll listen to you."
Isabel, a heavily pregnant single mother-to-be, asks the priest to bless her unborn daughter.
"I had complications with my pregnancy but I prayed to her and now everything is fine," she says afterwards.
Isabel, 18, has been a devotee since she was a child.
She claims Santa Muerte once cured her mother's health problems in return for her sister making a vow to always wear a rosary.
"I make the hour-long journey to the temple every month," Isabel adds. "She gives me the strength to move forward in life."
After the service, Mose Quintero, a 21-year-old MC, performs a freestyle rap dedicated to Santa Muerte in front of one of the temple's many statues.
"I believe in the man up in heaven but for me Santa Muerte is what makes me strong," he says. "As I say in my songs, she gives me support and above all inspiration."
A member of a local rap crew, Mose Quintero wears a Santa Muerte necklace and bares an unfinished tattoo of her on his chest.
"Many rappers ask her to make them famous or to screw people over, but she's very just and she'll make them pay," he adds.
"I don't ask for anything bad, just for her to bless my family and give me a fair shot at life."