Maradona signed by Venezuelan TV for World Cup show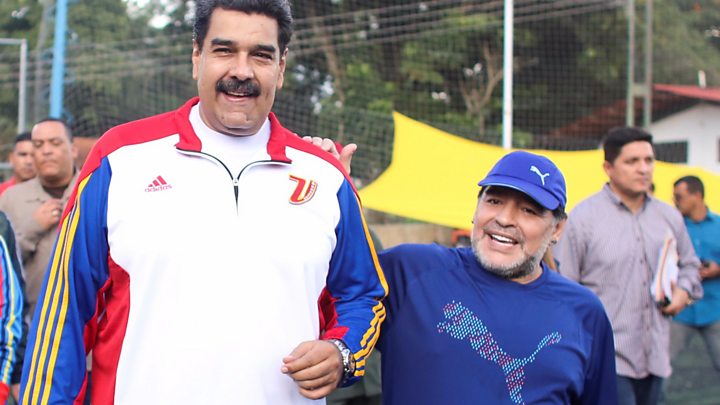 Argentine former football star Diego Maradona has signed a contract with Venezuela's state-owned television channel, Telesur.
He will host a daily programme during next year's World Cup, which will be played in Russia.
It will be called From the Hand of the Number 10, a reference to his infamous "hand of god" goal against England in the 1986 tournament in Mexico.
The news come amid a worsening economic and political crisis in Venezuela.
More than 120 people were killed in protests against the government of Nicolás Maduro earlier this year.
'Soldier for free Venezuela'
In August, when Mr Maduro was facing international criticism over the government's brutal handling of Venezuela's political and economic crisis, Maradona sent him a public message of support.
He volunteered to be "a soldier for a free Venezuela, to fight against imperialism".
Maradona has been an outspoken supporter of Mr Maduro and other left-wing governments across Latin America.
The ex-player has tattoos of the heroes of the Cuban Revolution, Che Guevara and Fidel Castro, stamped on his arm and leg.
He also appeared in public many times alongside the late Venezuelan leader Hugo Chávez, who initiated a programme of social reforms in 1999 that became known as the Bolivarian Revolution.
'How people really live'
The Venezuelan opposition says Maradona would not support the government if he knew the conditions the people endure.
"Come to Venezuela, but don't go to the Miraflores [presidential] palace or a five-star hotel," said opposition leader Henrique Capriles in August.
"I will take you on foot to one of the shanty towns to see how people really live."
After signing his contract with Telesur, Maradona played football with President Maduro and a group of children in Caracas.
This will be the second time he works with Telesur, a Caracas-based, Spanish-language channel owned by the governments of Venezuela, Cuba, Ecuador, Bolivia, Nicaragua and Uruguay.
During the Brazil World Cup in 2014, he hosted a successful daily post-match show, De Zurda (Spanish for With the Left).
Critics accused the government of paying a huge sum of money to Maradona as the country's economy collapsed.