US expands Venezuela blacklist for 'undermining democracy'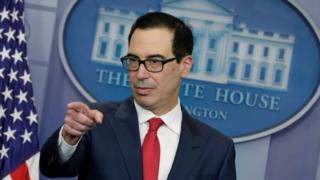 The US has imposed sanctions on 10 Venezuelan officials it accuses of undermining democracy, corruption and censoring the press.
Treasury Secretary Steven Mnuchin said the US "would not stand by while the administration of President Nicolas Maduro destroyed democratic order".
Mr Maduro's chief of staff and two ministers are on the list.
It brings to 40 the total number of Venezuelans sanctioned by the US, including Mr Maduro.
The ten have had their US assets frozen and are also banned from travelling to the country, while American businesses are forbidden to work with them.
The treasury department also issued bans against several members of Venezuela's all-powerful Constituent Assembly, including a vice-president.
The department said the assembly had sworn in the winners of the October regional election but that the vote had been "marked by numerous irregularities that strongly suggest fraud" and that had helped Mr Maduro's ruling party win a majority of governorships.
The latest sanctions come two days after the Constituent Assembly took away the immunity of a congressman, Freddy Guevara, and barred him from leaving the country.
The pro-government Supreme Court said it believed Mr Guevara had instigated unrest during months of anti-government protests earlier this year.
In August the US imposed economic sanctions on Venezuela, banning debt trading of bonds issued by the government and its state-owned oil company.
Pressure is growing for the US to impose an oil ban, the strongest penalty against oil-rich Venezuela, but analysts say the US administration is concerned it could hurt American refineries and worsen conditions for Venezuelan citizens.
Canada has also slapped sanctions on Venezuelan individuals and the EU announced an arms embargo and an embargo on selling surveillance equipment that could be used against opposition members.
But the BBC's South America correspondent, Katy Watson, says the sanctions are unlikely to deter President Maduro, who mocked earlier sanctions imposed on his government and administration.