Venezuela's debt problem: To default or to pay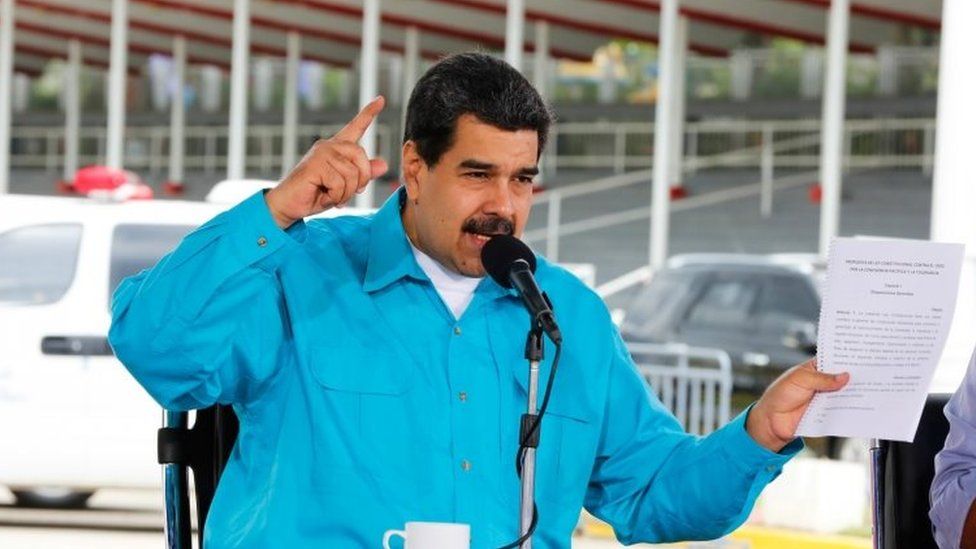 As creditors meet in Caracas to renegotiate the country's foreign debt, BBC South America correspondent Katy Watson takes a closer look at Venezuela's debt problem and the challenges facing the government.
What is the Venezuelan government proposing?
President Nicolás Maduro said on 2 November that the country would "refinance and restructure" all of Venezuela's external debt, meaning that the government would effectively renegotiate the terms of how it repays the money it owes to foreign investors.
How much does Venezuela owe?
Venezuela has about $60bn (£46bn) in outstanding bonds. That includes debt issued by the Venezuelan government as well as bonds issued by companies such as state oil company PDVSA.
But that is not all Venezuela owes. Its total external debt, which also includes loans from countries like Russia and China, is thought to be as much as $140bn.
How successful are the talks likely to be?
US sanctions are the biggest obstacle to the success of the talks, as no US citizen can do business with Venezuelan individuals named on the sanctions list.
Both of the men which Venezuela has put in charge of the talks appear on the list, Vice-President Tareck El Aissami (for alleged drug-trafficking) and Economy Minister Simon Zerpa (for allegedly undermining democracy and corruption).
"To negotiate directly with the Venezuela government would constitute a breach of the US sanctions and that would be illegal," explains Jan Dehn, global head of research at Ashmore Investment Management.
"I don't think a lot of asset managers are willing to take the risk of doing that, specially if they have a client base in the US."
Instead, they expect representatives of bondholders to turn up.
Why is Venezuela struggling to repay its debts?
That depends on who you speak to. The Maduro administration says low oil prices have made things difficult, but it largely blames US sanctions for Venezuela's critical financial problems.
The country relies on oil exports for 95% of its foreign earnings. It has taken a hit from falling oil prices but economic struggles also mean that its oil production has fallen.
Luis Vicente León from polling firm Datanalisis says Venezuela's oil export earnings are a quarter of what they were in 2012.
But analysts say there is far more to it than that.
"Oil windfall is a gift that you sometimes get, and you should never really manage it as if it is going to be there forever," says Jan Dehn of Ashmore Investment Management.
"The money should be invested so you can generate benefits that are lasting - education, infrastructure investments, improvement in healthcare. But Venezuela has done nothing of the sort."
It is a possibility if Venezuela cannot come to an agreement on how to make future payments. But in the past, the country has honoured its debts because of a fear of default, according to analyst Luis Vicente León.
"In order to keep paying the debt, they've had to sacrifice paying for imports into Venezuela," he says. But because Venezuela depends on imports for things like food and medicines, he says that the country now faces the dilemma of looking after its people or after its creditors.
According to Mr León, every country facing the same dilemma has in the past decided to default. But Venezuela's situation is complicated by its need for dollars to pay for imports.
He says that a default would lead to Venezuela's oil sector being blocked on the international markets. "And if the oil sector is blocked, Venezuela won't get any dollars. And if they don't have any dollars, they are not going to have food."
What would a default look like?
A default could provide a boost for President Maduro in the short term, according to Risa Grais-Targow of political risk consultancy Eurasia Group.
In a politically popular move, it would allow Mr Maduro to spend the money he would otherwise spend on paying back debts on imports, Ms Grais-Targow says.
This could strengthen his position ahead of presidential elections next year.
"With the opposition currently in disarray, he is already in a relatively comfortable position, says Ms Grais-Targow. "But the near-term cash flow relief associated with a default will provide him with additional room to manoeuvre."
But Ashmore Investment Management's Jan Dehn questions whether or not Mr Maduro would be able to survive a default.
"It will be a very significant blow to the government's credibility," he says, and that could see its financing dry up.