Chile election: Conservative Piñera to face Socialist Guillier in run-off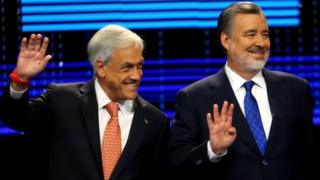 Conservative Sebastián Piñera has won the first round of Chile's presidential poll, but failed to avoid a run-off.
With almost all the votes counted, the 67-year-old billionaire has 36.6%, electoral officials say.
Mr Piñera, who was president from 2010 to 2014, will now face Socialist contender Alejandro Guillier in the second round on 17 December.
Incumbent leader Michelle Bachelet is unable to seek re-election under Chile's constitution.
Surprise boost for Sánchez
In all, eight candidates were standing in the presidential race.
Mr Guillier won 22.7% of the vote. He is a former journalist and the candidate from Ms Bachelet's left-wing Nueva Mayoría coalition.
The 64-year-old pledged to continue a series of liberal reforms launched by Ms Bachelet.
Not far behind Mr Guillier was left-wing candidate Beatriz Sánchez with 20.3% of the vote, a much better result than polls had suggested.
Ms Sánchez will not go through to the second round but her supporters could give Mr Guillier a lead over Mr Piñera if they transfer their votes to the Socialist candidate on 17 December.
Ms Sánchez has not yet said whether she will endorse Mr Guillier but she has been scathing about Mr Piñera.
She said a second term in office for Mr Piñera would be "a step back for the country".
In 2010, he became Chile's first conservative leader since the country's return to democracy, ending two decades of uninterrupted centre-left rule.
During the latest presidential campaign Mr Piñera managed to unite Chile's conservative wing, and enjoys the backing of the business community.
He represents the right-wing Chile Vamos coalition.
A victory would mark another shift to the right in South America after the rise of conservative leaders in Argentina, Brazil and Peru.
On Sunday, voters were also electing all 155 members of the lower house and half of the senate.