Media share sub families' grief and anger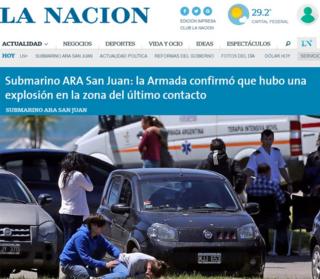 Argentina's main newspapers headlined reactions of grief and anger from relatives of the 44 crew members aboard the missing Argentine submarine ARA San Juan.
Hopes of finding them alive faded after the country's navy said an "explosion" was detected near where the submarine went missing on 15 November.
"They are all dead," Pagina 12 newspaper said, quoting a relative who said they had been briefed that "there was no expectation of survivors".
'They killed my brother'
Clarin carried a sub-head on its story: "The reaction of the family members: 'They killed my brother, the sons of bitches!'" with a photograph showing relatives embracing in tears among white-uniformed navy officers.
The newspaper reported that a briefing broke up with relatives screaming at navy officials about the age and state of repair of the missing submarine, built in 1985.
"They killed my brother because they made him sail [in a vessel held together] with wire," the newspaper quoted one relative as saying.
In similar coverage, La Nación newspaper quoted the words of Itati Leguizamon, the wife of one of the missing sailors, in its headline: "They are bastards, they lied to us".
President Mauricio Macri had previously been confronted by the relatives at the Mar del Plata base on 21 November, when they upbraided him about the "very old" age of the submarine.
One woman told him that sending sailors out in such vessels was "practically suicide".
'Let heads roll'
There was also an outpouring of sorrow and indignation on social media, with some users using the hashtag #Los44 (The 44), calling for members of past and present Argentine governments and the armed forces to take responsibility for what they deemed "negligence" and "omission".
"Let heads roll," Twitter user @CrisO26 wrote.
Another Twitter user, Maxi Kronenberg, questioned the accuracy of the information presented by the Argentine navy.
Writing on his @maxikron Twitter account, he said: "What can I say about this: between the information from the Argentine navy and the reports of the #USNavy and the International Atomic Energy Agency [in Austria] I trust what comes from outside. Negligence and omission, the tragedy of the ARA San Juan #submarine saddens us all."
BBC Monitoring reports and analyses news from TV, radio, web and print media around the world. You can follow BBC Monitoring on Twitter and Facebook.